Skincare with Sidrah
As health and beauty become more popular in the new year, the students at Marriotts Ridge discuss one of the best things that fits into these categories: skincare. Skincare is the process of using different products on one's skin to make it healthy and attractive.
With skincare comes a routine, the basic skincare routine is cleansing, toning and moisturizing the skin. Ranging from five steps to seven, each individual has their own routine that suits them best. Junior Leena Chung, who prioritizes her skin, explains her five step routine.
"My skincare routine is actually pretty simple. I only use an oil cleanser, foaming cleanser, a Cetaphil face moisturizer, a hydrating water based sleeping mask and the A'PIEU pink Tone Up Sunscreen."
While Chung's routine remains consistent, some people utilize different products for different types of day. Senior Aidan Burnham has two separate skincare routines that he uses to take care of his skin: one in the morning and one in the night.
"The primary steps I take in each routine consist of cleansing, moisturizing, treating and protecting. In the morning I'll cleanse with my water-based CeraVe Cream-to-Foam Cleanser, moisturize with the CeraVe Moisturizing Cream, treat with a prescribed benzoyl peroxide gel and then protect with my Cetaphil Sheer Mineral Liquid Sunscreen. At night, I'll add an extra oil-based cleanser before my water-based cleanser to help remove my sunscreen, any makeup and/or just dirt that's built up through the day. Recently in the winter I've been protecting my face with CeraVe's Healing Ointment which is a petroleum-based product that helps [prevents moisture from leaving the skin]," Burnham said.
With skincare comes favoritism, Burnham, Chung and senior Rachel Armstrong explain some of their favorite products that they love and how they've helped their skin become clean and healthy. Burnham's current favorite skincare product is CeraVe's Healing Ointment and Chung's favorite is the Saturday Skin Sleeping Mask.
"Saturday Skin is a fragrant free water-based sleeping mask, so overall it's super easy to blend into the skin and it feels super light. Unlike other cream products, the mask absorbs into your skin quickly so you don't get that sticky feeling on your face," Chung said.
This jelly-textured mask is infused with yuzu which is a yellowish citrus fruit that contains three times more Vitamin D than any other citrus. The mask works overnight to soothe, support and overall improve the moisture in one's skin. The mask also helps with hydration, aging, dullness, pores and stress.
Armstrong mentioned that she has three favorite skincare products that help her out with blemishes, dark spots, pores and much more.
"I switch between three different products that I love; it all depends on how my skin feels. I use the Ordinary Niacinamide Serum, which brightens my complexion, Paula's Choice BHA Exfoliate which helps with my pores and finally the Olehenriksen Toner; this really helps me with my dark spots," Armstrong said.
As the Mustangs discuss their favorite skincare products, they share their recommendations for different serums, moisturizers, toners and other products they've been loving.
"Recommending products may be difficult in the sense that everyone's skin is different. Skin concerns could vary from being dry, acne-prone eczema-prone, or even general sensitivity. There is a wide variety of products out there to soothe your needs. I recommend at least having a base routine of a water-based cleanser, moisturizer, and sunscreen. This is, at the least, the bare minimum for a healthy skincare regimen," Burnham said.
There are many different skin types, and they are often placed in one of the five broad categories:normal, dry, oily, combination, and sensitive. With each skin type comes different products that best suit the skin.
"Occasionally I use this Korean-brand sunscreen called Innisfree which is really good on my skin, because it leaves no white cast, it isn't greasy and it hydrates my skin," Armstrong said.
White cast is the leftover sunscreen that leaves a white layer on one's skin, it's mostly noticeable on darker skin and in photos.
Having a skincare routine can help keep the skin happy and balanced. Implementing a routine can provide great physical benefits.
About the Contributor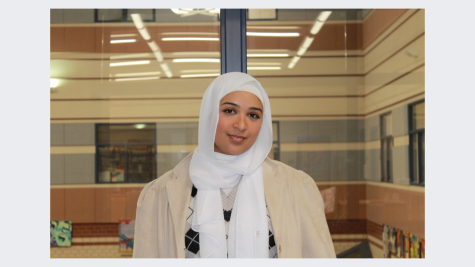 Sidrah Rizvi, Copy Editor
Hello! My name is Sidrah, and I'm a senior! This is my fourth and final year of journalism, and I'm a copy editor. Outside of school, I love driving around,...