A Boost of Medical Experience: HOSA National Competition
Medical opportunities open up to students thanks to the help from HOSA.
HOSA, or the Health Occupations Students of America, is a student-led organization that provides medical opportunities and education through school clubs, including a chapter here at Marriotts Ridge. HOSA is recognized by the US Department of Health and Human Services and the Department of Education. HOSA conducts national competitions every year to assist aspiring medical students in their studies.
"In our online competitions, we have a range of events that are available. Everything from dentistry to public health to veterinary medicine so members can participate in whatever activity …speaks to them," senior co-leader Katie Wu said.
This year's competition will be held on June 21-24, 2023 in Dallas, Texas. To prepare for these competitions and teach students about medical careers, the HOSA club holds many practices that cover many unique topics.
"One of our most popular activities is suturing. Members will bring in bananas or oranges and we have a suturing kit with needles… We'll have a video playing and members can practice suturing techniques in a safe environment so they can learn about what the suturing job entails," Wu explained. Suturing is the act of stitching up a wound, perfect for aspiring surgeons.
Learning how to suture is barely scratching the surface of the wide range of medical fields students in HOSA can study. Along with these hands-on activities, the club also provides members with volunteer opportunities.
"We also have medical service and volunteer opportunities… In the past, we actually partnered with this organization to collect care kits for cancer patients… members had the opportunity to create origami and write inspirational letters to support the patients in need in local hospitals," senior co-leader Amrutha Alibilli said.
Though activities and volunteer work can give students first hand experience, sometimes members need guidance from those who have already taken strides into their medical career. This guidance is also provided by HOSA through meetings with medical professionals.
"We also have guest speakers, these are usually people within the medical field. They'll come and talk to the members about what their day to day life looks like, how they got to their career, and that can be very helpful for members to learn about a range of careers," Wu said.
Even if members do not manage to land high in the rankings, Wu says that they can still gain a lot from simply participating in the event.
"I think the HOSA competition is a great opportunity to challenge yourself… With the knowledge that you gain it prepares you for college, it prepares you for your career. It also teaches you skills like time management as a lot of the studying is done on your own. Collaboration, you're studying with your partners. You can learn how to learn independently," Wu explained.
While HOSA has many medical related events, their competitions are not exclusive to the healthcare field.
"We have events like medical laws and ethics, and medical spelling, so, it's not just the topic of medicine… if you're interested in developing those skills that are applicable to any field, I think HOSA is a great way to start your competitive career, gain that experience and boost skills," Alibilli said.
HOSA events can certainly give a boost to college resumes for aspiring medical students, but education is not the only benefit from studying healthcare fields.
"We have skill-based events like CPR, first-aid, and having done biomedical laboratories techniques, which can help you when you're doing internships in the medical field. And when you're out in public and there's an emergency and you're the only one who knows how to do CPR or first aid. Your skill is really necessary in the real world as well," Alibilli said.
The club activities and competitive events HOSA hosts provides opportunities for both medical and non-medical students. HOSA is great for aspiring medical students and those who just want to learn more about the healthcare industry.
About the Contributor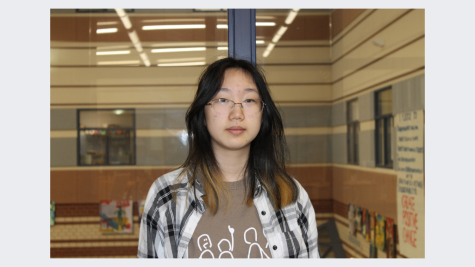 Esther Kim, Staff Writer
Hi, my name is Esther Kim. I am a sophomore taking journalism for the first time, but I'm looking forward to being a writer for the rest of high school....