Una Flor Para Tu Amor
The Marriotts Ridge Spanish Honor Society (SHS) promoted Hispanic culture by providing students with the opportunity to sign up to send their friends or significant others a handmade paper flower for Valentine's Day. Students were able to sign up during all lunch shifts on February 6th and February 7th and could personalize a message to send with the flower. This new program called "Una Flor para Tu Amor" is becoming a yearly tradition for the Spanish Honor Society.
"It's a new fundraiser that we started last year, and the overall premise is that candy grams and roses cost a lot of money, so this is a free way for students to spread the love at school. We wanted to provide another unique avenue for students to appreciate others at school and send messages to each other," SHS president and senior Abihith Velumuri said.
The members of Spanish Honor Society personally handmade each flower and delivered them to their recipients during third period on Valentine's Day. Students simply had to sign up and write the recipient's name and third period teacher, as well as write a note to go with the flower.
"After you write down your friend's name and classroom, we have student members that volunteered to go around to each classroom on Valentine's Day to deliver the flowers," sophomore Arya Ram said.
The members made about 200 flowers after school on February 9th so that they would be ready for delivery by Valentine's Day.
"They're handmade so it'll essentially be like a craft; the session to make them is about an hour and we have 30 people working on it so we should be able to finish them within that hour," sophomore Tanvi Lingareddy said.
Members of the club enjoyed seeing people sign up for a flower and take part in spreading the word to their friends.
"We want as many people to participate as possible to know the Spanish Valentine's Day celebrations and to show each other their affection. We just started sign-ups and we already got a couple of people who want to send flowers to their friends," sophomore Trijal Pinninti said.
This free opportunity is also a great way for students to practice their Spanish skills because at the signup table, there are phrases in Spanish that can be used when writing the note.
"This is completely for free where we advertise the club for Valentine's day. We encourage people to do it in Spanish if they take a Spanish course. If not, it's a great way to spread love," senior Frank Rhodes said.
"Una Flor Para Tu Amor" is a great program started by the Spanish Honor Society to not only advertise their club and Spanish culture, but to also spread love in the Marriotts Ridge community on Valentine's Day.
About the Contributor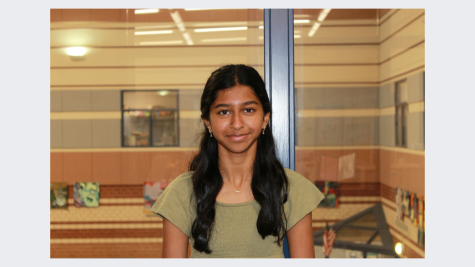 Sahasra Pola, Staff Writer
Hi, I'm Sahasra Pola! I'm a sophomore, and this is my first year of journalism. I am part of the class council at school, and I like to bake, read, and...