Mustangs Fill Up Their Bowls For Grassroots
On Thursday evening, February 23rd, Mustangs gathered around with paints in hand to help raise money for the Grassroots Crisis Intervention Center at the Empty Bowls event.
The Black Student Union (BSU) and the National Art Honors Society (NAHS) collaborated to organize this event. At the fundraiser, students painted bowls and were provided with soup and different snacks. All the proceeds went to Grassroots. The end goal for the event was to make donations that would support the homeless. In total, the event raised roughly $820 for Grassroots. The event was a huge success and students who attended loved the experience.The event is new this year, and the two clubs hope for Empty Bowls to become a Marriotts Ridge tradition. Coordinating the fundraiser required a great amount of planning and collaboration between BSU and NAHS along with frequent advertisements for the event.
"We used a liaison from the Horizon Foundation [A foundation that supports many non-profit organizations] who assisted in donating all of the paper goods and publicizing the event as well. They announced the event to the community after the event was organized and promoted the cause as well," junior Sarah Otto, a member of the NAHS said.
To ensure the success of Empty Bowls, a great deal of work took place over the past couple of months. The art classes and Art Club began the process right before winter break with the goal of making one hundred bowls for the event.
"When the first email was sent out in October, Mr. Hensley and the club communities worked for a few months to make the bowls, prepare food, raise donations from the community and spread the word to promote the event," Otto said. After the bowls were made, students involved in art would go to many different lunch blocks, and promoted the event a month before the occasion was taking place. With help from the Horizon Foundation and the in school help, only a couple days later all the tickets were sold out. The day of [the event], everyone came together and had a good time after all the planning that took place.
"The evening went pretty smoothly, they had music; everyone was having a good time painting and eating with their friends," senior Allision Quijada Amaya said.
Empty Bowls was a successful event that allowed Mustangs to spend time with friends, express their creativity and support a charitable cause; students hope to see more fun filled events like this in the future.
About the Contributor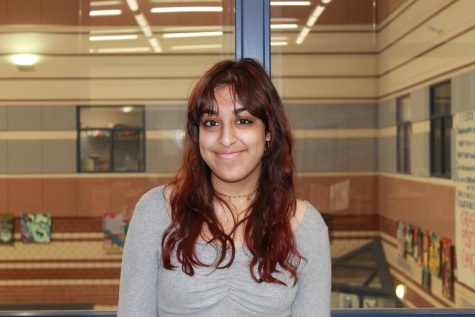 Raniya Baig, Staff Writer
Hi, my name is Raniya. I'm a junior, and this is my first year in journalism. Outside of school, I work at a café and enjoy hanging out with my friends...