Introducing the Teacher of the Year 2023
The Class of 2023 voted for the social studies teacher and boys' soccer coach Mr. Khouri to be Teacher of the Year.
The purpose of Teacher of the Year is for students to vote for a teacher who has made their high school experience one to remember as well as decide on who they want to present the graduation speech to their class.
Last year, English teacher Mr. William Frank won teacher of the year and gave an astounding graduation speech to the class of 2022. He left the graduates with words of wisdom about being a leader.
This year, the seniors each selected a teacher they wanted to win the award, and the three teachers with the most nominations were put to a final vote. After days of voting by the class of 2023, honors Modern World History, AP Human Geography teacher and varsity boys' soccer coach, Mr. Khouri, was chosen as teacher of the year.
On March 1st, members of the Class of 2023, multiple players on the Marriotts Ridge varsity soccer team and many staff members surprised Mr. Khouri in the cafeteria with donuts and a large banner to celebrate his accomplishment.
Mr. Khouri has built many connections with his students, whether from being on the soccer field coaching or in the building teaching. These connections have created many close relationships with his students and athletes alike, and made him a widely favored teacher and coach among the senior class.
"He's a great teacher and, as a soccer coach, he helps us do many things on and off the field," junior Kole Costello said.
Many other players on Mr. Khouri's team agreed and discussed his strengths as a mentor and role model.
"His talks before our games were always very inspirational. It gave us a lot of energy and always made us perform really well on the field," sophomore Nick Wagner said.
Other students agreed that the connections Mr. Khouri has with his students are seen as a sign of respect towards them. This respect also motivated many students and caused them to look forward to practices as well as his class.
Students of Mr. Khouri enjoy his class due to many factors, such as his teaching methods and giving students the freedom to help choose class activities. This teaching style causes many students to believe that his passion for teaching raises their passion for learning and attending class each day.
"He's really passionate about teaching and he wants his students to learn. He allows students to be independent and take control of their learning by being understanding," junior Charlene Pak explained.
"He builds emotional connections with his students rather than just a regular educator and respects students on a greater level," said senior Mahmoud Babkir, who gave a speech during Mr. Khouri's surprise celebration.
Mr. Khouri paid a great deal of tribute to his students for his success as a teacher and for his achievement.
"The students are everything to me. [They are] coming in every day trying to have an open mind, even with so many distractions. The kids are the reason I do what I do, and it's the reason I teach, and I'm just so thankful for all the students I've taught in the past, and certainly the ones that voted this year. I really appreciate it, that's the reason I come to work every day. All of this is owed to my students," he explained.
Mr. Khouri also pointed out how winning this award really made him feel emotional, just knowing that students are having a positive impact from his teaching.
"I feel emotional about it just because it's not too often that teachers really get students [to] communicate to them the impact that they are having, the positive impact they are having on their lives," Mr. Khouri commented.
With graduation around the corner, Mr. Khouri now has to start thinking of and writing his speech.
"I want [the graduation speech] to mean something to the kids, I don't want it to be a speech they've heard a million times before. I want it to be individual because, again, the students mean a lot to me, and I want to make sure that these seniors on their way to their next chapter of their lives have something that they can take with them and remember," said Mr. Khouri.
Winning this award and knowing that the students care about him will impact Mr. Khouri's teaching career for years to come. For now, winning this award is a reminder that students are paying attention to their teachers and the profound impact teachers have on the lives and minds of those they teach.
About the Contributor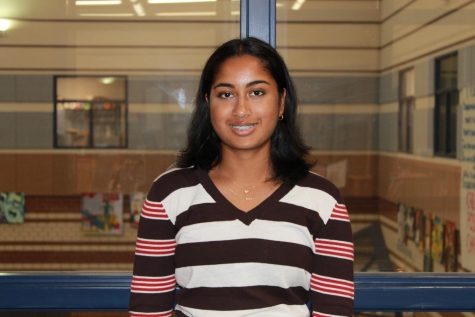 Simran Singh, Staff Writer
Hi! I'm Simran Singh, and I am a sophomore. This is my first year in Journalism, and I'm excited to be a writer for The Stallion. I'm in class council...