Introducing High School 13: Guilford Park High School
Guilford Park High School, Howard County's thirteenth high school, is on its way to being ready by August 2023. Guilford Park is located on Mission Road in Jessup and has already decided on administration. Mr. Josh Wasilewski has been confirmed as the principal of Guilford Park High School. Mr. Wasilewski has had an extensive teaching career and has been working in the Howard County Public School System for 21 years. Previously, he worked as a teacher at Mayfield Middle School, the assistant principal at Patuxent Valley and Wilde Lake Middle School and the principal of Murray Hill Middle School and Long Reach High School.
Principal Wasilewski and Assistant Principal Adrienne Williams were interviewed by Dr. Martirano on the Inside HCPSS podcast about their visions for Guilford Park.
"The first time I learned about vision was through our captain on the Beach Patrol, because we were talking about the vision of the Patrol and understanding the qualities of a leader, like leading by example, building trust with your teams, having integrity, character, all those things. Plus, learning how to deal with emergencies," Wasilewski said.
Leadership qualities and the ability to respond to emergencies are crucial to the role of principal. Mr. Wasilewski explains how his past experiences have paved the way for his position today.
Mr. Wasilewski said that he aims to build a student environment based on, "creating a culture centered on equity, cultural responsiveness, high quality instruction and engagement of all members of our school community."
Guilford Park is scheduled to open for the 2023-2024 school year and has adopted features from Howard County's other twelve high schools. Guilford Park was designed based on the fourth adaptation of the high school design prototype and shares the designs of both Marriotts Ridge and Long Reach High School. The school has forty general classrooms, ten science rooms and three rooms for technology education. Guilford Park also facilitates athletics with multi-purpose fields, natural and artificial turf fields, track facilities, tennis courts and basketball courts.
Guilford Park High School was constructed to be a HCPSS Green School. A Green School is designed for energy efficiency and conservation in order to reduce negative environmental and the carbon footprint. These Green features include solar photovoltaic roof panels that reduce the need for fossil fuel generated electricity by 18%. Micro bioretention areas are built to filter stormwater before it enters local waterways.
In addition to being energy efficient, Guilford Park has equity programs. Assistant Principal Williams has been in the education field for 30 years and served as assistant principal for four high schools before Guilford Park. Williams commented on Guilford Park's equity programs.
"It's building a space; it's building a campus for all of our students. Even today, we met with our Special Education ITLs and the reading specialists and the occupational therapists. So, it's not even about just the academics, but it's making sure all of our students are included. Making sure we have all the apparatus for everybody to learn," Williams said.
The administrators hope to establish an inclusive school environment that provides for and facilitates all students' needs.
About the Contributor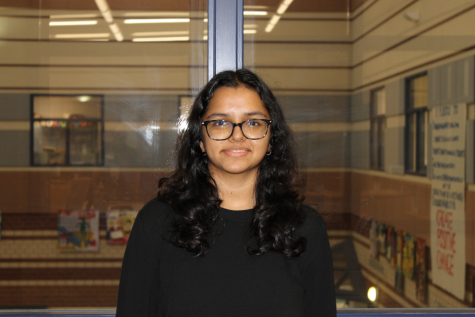 Srileka Krishnakumar, Overflow Editor & Staff Writer
Hi, my name is Srileka, and I'm a junior. I'm in my second year of Journalism, and I'm a writer. I love reading, writing, and I'm involved in a...