Motion to Host the First MRHS Model UN Conference
The Marriotts Ridge Model United Nations Club (Model UN) hosted a conference for the first time at the school that all students were welcome to attend. The RIDGEMUNC conference took place on Saturday, March 25. The Model UN Board and its members put a great deal of work into the planning of this conference and the different committees in it. The five committees include topics about the Star Wars crisis, gene modification, Morality Police, International Court of Justice and space guidelines.
"Model UN has been around for five to eight years. However, over the last year or two, we've grown tremendously in size. Given this growing passion and interest from our members, we decided to try something that no one else had previously done and start our own conference. As much as continuing our normal MUN activities is really cool, we wanted to extend opportunities to students at MRHS and beyond," senior and Model UN president Abihith Velumuri said.
To host a conference of this scale for the first time requires a great deal of thought and planning. Members of the conference staff helped make posters to advertise the conference and created a website where people could sign up and learn more about the event. 
"We want to introduce more people into the world of Model UN. I was given the task of building a website and that has taken me several months to build especially when balancing that with school work and other extracurriculars. The conference is a really good experience in debating and just interacting with fellow delegates. There are several awards that are available for delegates to win as well," sophomore and conference planner Jeremey Jacob said.
The planning committee not only had to make a website but also needed to take care of the logistics of the event.
"As a staff member, I helped organize the majority of the event. We had to order food, set up, print certificates for awards and make and print brochures with maps. We had a bunch of meetings with our advisor Ms. Richards and the school custodians who are all crucial for the planning of this conference," sophomore and MUN staff member Arya Ram said.
Adding on to the board's responsibilities, they had to find an opening speaker for the conference who would share their experience in politics and open the event. The team picked Tom Bonier, CEO of Target Smarts, who is a political strategist known for his contributions to political campaigning and strategic planning.
"He has a background in politics, which will make the opening speech really interesting. We picked him because it definitely makes it easier just to have a personal connection, and his job relating to politics just makes it work perfectly," sophomore Allison Bonier said.
Aside from finding a speaker, the committee chairs spent much of their time planning and writing background guides so delegates could learn more about their topic to write their position papers. Delegates use position papers to outline their stance discussed in their committees.
"We spent a lot of time coming up with committee ideas, the timing, scheduling, and especially outreach. We don't have an exact estimate of the number of people coming, but so far we expect between the 50's and 80's," junior and vice president Suhas Chokkaku said.
With around eighty people expected to come, they needed around five committees to accommodate all of the delegates. One of the five committees offered was a fictional crisis where students imitate Star Wars characters and take on a position about the aftermath of the Clone Wars. The second committee revolved around the ethicality of gene modification, where delegates decide whether the scientific community should fully harness gene editing. The third committee was UNESCO B, which is based on Iran's unethical use of Morality Police to subside widespread protests for women's rights. There was even a committee called ICJ, where delegates act like they are on the International Court of Justice and rule on the case of Oil Platforms. The last committee available at the conference was the United Nations Office of Disarmament Affairs where students can establish space guidelines. These different committees give students the opportunity to explore various topics relating to international relations. 
"It's a really awesome public speaking opportunity and you get to make a lot of new friends, meet people from around the county, and try out Model UN which is an awesome club," freshman Soha Mahapatra said.
Many of the members were excited to plan their first conference and took pride in knowing their hard work will pay off. 
"I definitely think the conference will continue in the future. I hope more of our younger members will take charge and lead the future of our club," senior and secretary Joanna Chang said.
All this planning paid off because the actual conference was a big success, with over 80 people there from 8 different schools. Delegates were able to emerge themselves into the different committees and speak out against pressing issues. 
"Samarth and I did check-ins and sent everyone to the auditorium for opening ceremonies where CEO Tom Bonier gave a speech about learning your why before your what and how. After President Abihith spoke, we had a surprise in store, a life size R2D2 rolled onto stage. We began committees and then after some moderated caucuses we dismissed to lunch. After lunch some committees turned to crises which was a new experience for delegates," Ram said.
The conference was a fun experience for many people to meet new people from other schools and engage in their committees.
"I was in the morality police committee as the delegation of Iran, it was fun arguing against pretty much everyone in my committee, and representing a country I don't actually stand by. Our committee also turned into a crisis committee right in the middle so troops and nuclear bombs were involved which was a surprising turn that made the committee so much more intense. This being the first RIDGEMUNC hosted, everything was executed really well, committee sizes, topics, and chairs were all great," sophomore Reem Abdelghani said. 
RIDGEMUNC was an enriching opportunity that all students can take part in regardless of their experience or skill level. Students were encouraged to choose a committee they're interested in and to join in on this new experience which exposes them to public speaking and international affairs.
About the Contributor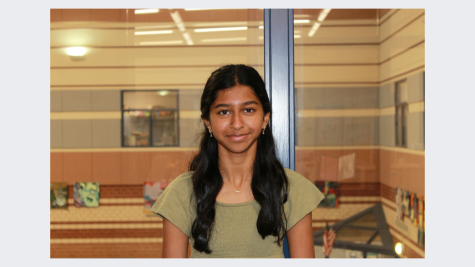 Sahasra Pola, Staff Writer
Hi, I'm Sahasra Pola! I'm a sophomore, and this is my first year of journalism. I am part of the class council at school, and I like to bake, read, and...