The Wearing of the Green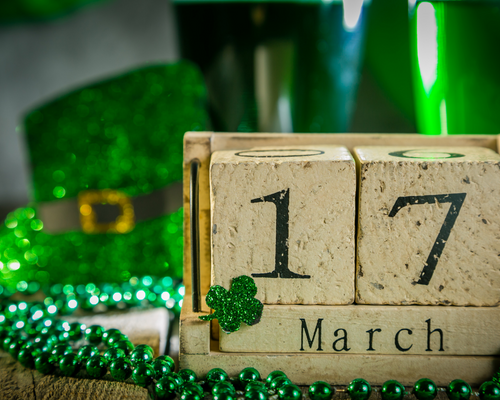 Although Christmas, Halloween, and Valentine's Day are easily the most popular holidays, many still love enjoying all the fun St. Patrick's Day has to offer. March 17th is not just the day to wear green and pinch people, but a day to celebrate the patron saint of Ireland, St. Patrick.
St. Patrick's Day is celebrated to remember how Christianity was brought into Ireland.
Saint Patrick was a man named Maewyn Succat from the fifth century who was kidnapped from Rome by Irish raiders and then brought to Ireland. He escaped Ireland, but later came back and became a priest to spread Christianity throughout the country and was appointed as a saint.
Saint Patrick used the shamrock, a 3-leaved plant native to Ireland, as a symbol to represent the three parts of the Holy Trinity. The Holy Trinity consists of the father, the son and the holy ghost; each part is a leaf on the shamrock. Today the shamrock is still used in Irish culture as a symbol, but it is now mostly used throughout the world as a decoration for St. Patrick's Day,
Irish Christians will take this time to embrace their culture and heritage while taking part in the many activities involved. During this celebration, many enjoy gathering together with family and making a traditional Irish meal.
"My family has a really big dinner, we have corned beef and cabbage and it's a really fun time…my dad is from Ireland so it's…a fun way to celebrate some culture stuff," senior Kelly Maclean shared.
In addition to the delicious meal of corn beef and cabbage to enjoy, students celebrate their heritage through clothing and decor.
"We decorate our house and we wear green," junior Gracie Taylor stated.
From decorating, to baking soda bread to even parades, the holiday is filled with fun. Leading up to this special day there were multiple parades around Maryland. On March 12 there were plenty of parades, including one by the Washington Monument in D.C. and one in Baltimore, all in preparation for the holiday on the 17th.
Another way to celebrate St. Patrick's Day and showcase Irish culture in general is the art of Irish dancing. This type of dance is traditional in Irish culture and dates back all the way to the 1600 B.C.
"I'm an Irish dancer and I perform with a dance company, so we have a lot of performances, …around St. Patrick's Day and during the month of March," senior Emma Donahoe explained.
People around the world have fun joining in the festivities, and students and the community join in by wearing the special color.
"The minimum is just like wearing green, you know, represent," Maclean said.
This practice of wearing green relates back to another aspect of Irish culture and the mystical belief in leprechauns. Leprechauns are little fairy creatures who cause mischief and pinch people. So, to avoid pinches, people would wear green because it makes them invisible to these fairy creatures.
As March 17 comes and goes, celebrations for St. Patrick's Day took place. Students enjoyed sharing meals, spending time with family and going to local parades.
About the Contributor
Emily Taft, Staff Writer
Hey! My name is Emily, and I'm a junior. I'm so excited to join the newspaper this year. Outside school, I love to read, hang out with friends, watch TV,...