Red Cross Club
The American Red Cross is a non-profit organization that provides disaster relief and health and safety training. At Marriotts Ridge High School, students join the Red Cross Club to assist those in need and donate to disaster relief programs.
Senior and co-president of Marriotts Ridge's Red Cross Club, Therese Kim, explained how the Red Cross Club contributes to global disaster-relief efforts.
"Since we are under the Red Cross, all of our proceeds go to the American Red Cross and from that, they'll take the funds and care kits to Red Cross centers in the nation or ship them off internationally," Kim said.
Although the American Red Cross's funds serve to help people in need, they cannot focus on all aspects of health.
"Our goal is to organize fundraisers and events that align with our five lines of service: blood, training, international, disaster and service to armed forces," Kim said.
Members who join the Red Cross Club have the opportunity to participate in many activities and fundraisers that provide aid to Red Cross centers.
"We usually do a lot of fundraisers for victims of natural disasters, and also we do a lot of activities for veterans. So we make a lot of holiday cards—a lot of SFA cards," Kim said.
Every month, the Red Cross club comes up with new ideas to serve the global community and carry out daily activities; however, every March, the Red Cross Club has an event called Red Cross Month.
"Specifically for Red Cross Month, we're doing comfort kits right now. We're just gathering toiletries and care packages for children who are being affected by natural disasters in the local area," Kim said. "Red Cross Month is a month dedicated to all the work, not just to the Red Cross adult volunteers but also to what the youth sectors are doing…it's just a month of recognition for all the hard work and effort that Red Cross clubs and organizations have done so far."
This year will be different for the Red Cross Club, as they have secured an important partnership with another well-known club at Marriotts Ridge: the Future Business Leaders of America (FBLA).
"Next month, we're partnering with the FBLA to do a blood drive. This year we were finally able to partner with them so we want a lot of our members involved, but we also encourage the student body to donate if they are eligible to," Kim explained.
Blood drives are beneficial, not only because of the lives blood transfusions can save, but also because such an event brings more awareness to the importance of blood donations. Encouraging people to participate in blood drives can assist medical centers as they can treat their patients in need of blood, especially those caught in accidents.
The Red Cross Club is aimed towards offering people medical assistance and anyone is welcome to join, even those with little experience in the medical field.
"Anyone is free to join," Kim said. "We've been getting a few new members right now, so you can join anytime and you can make an account anytime …We are going to try to provide more opportunities and more service projects that anyone in our school can stop by and make an SFA card or learn about how to become CPR certified."
Students who join the Red Cross Club may be interested in remaining as a member of this organization even after they graduate, as joining this club is a gateway to a multitude of service opportunities.
"For high schoolers, because we're minors, we can't go off site for volunteer opportunities. But when you turn 18, you are able to sign up for different opportunities," Kim said. "For the regional board that I'm a part of, there are a few requirements, but anyone who is involved in the Red Cross club, especially underclassmen who are looking for leadership opportunities and involvement with the Red Cross, can apply."
Anyone interested and willing to join the Red Cross Club will find themselves working on activities every month that spread kindness and will be able to lend a helping hand. The club stands to aid and serve the people of America, and students who join can contribute to the effort.
About the Contributor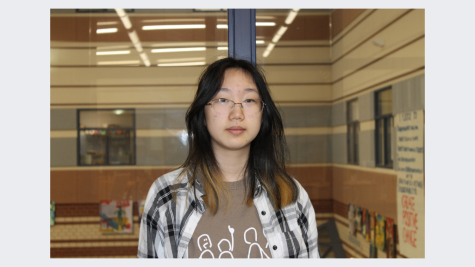 Esther Kim, Staff Writer
Hi, my name is Esther Kim. I am a junior taking journalism for the second time. I am enraptured by music, creative art, and inspirational writing. I play...