Celebrating with Kindness: Developmental Disabilities Awareness Month
On February 26, 1987, Ronald Reagan announced Proclamation 5613, which designated March as Developmental Disabilities Awareness Month. This March, Mustangs celebrate with kindness, compassion and understanding. The We Are Ridge club, dedicated to fostering relationships between people from all walks of life, is at the forefront of these celebrations, encouraging students to help their friends and community.
Ms. Pasteur, special education teacher and the sponsor of the We Are Ridge club, discusses the activities We Are Ridge is partaking in during March.
"We're definitely celebrating National Down Syndrome Day, [and] we're doing a couple of different activities which are just kind of within the club," Ms. Pasteur said.
Ms. Pasteur also encourages students to be more proactive and to extend kindness to their friends regardless of their differences.
"We have to start with our school first," Ms. Pasteur said. "Obviously helping the big picture is a great thing, but helping the big picture creates the small picture. Just stopping by different classrooms, whether it's my classroom which is 252 or 250, and just coming in and chatting and saying, 'Hey, like, is there any way I can do a puzzle with a friend or maybe just go for a walk or do something fun?' We do have our adaptive PE class which is more of a base where most of our students are in the class and it's in its second period with Ms. Gaieski. She loves visitors so stopping there if you have extra free time or just always being a supportive friend and saying hello is the first step."
According to the Centers for Disease Control and Prevention, one in four U.S. adults suffer from a disability that inhibits their ability to participate in significant life activities. Although this is a nationwide statistic, there are also many students in our community that suffer from developmental disabilities. It's important for us to help create a nurturing environment at our own school if we're to even think about a nationwide impact. Students with disabilities share how their friends support them and what that support means to them.
"My friends help me out whenever I can't do anything," junior Will Ashbaugh said. "If I'm out sick, they cover whatever I was supposed to do that day. My friends also assist me with anything I'm stuck on. Like if I'm stuck on a question or something then I'm like 'Oh yeah' I need back-up.' It helps me out a lot."
Freshman Anushree Mahato discusses the activities she and her friends partake in that she enjoys.
"My friends make me happy," Mahato said. "I play with them at lunch together in the cafeteria. We play Uno. I go outside and play with my friends. We also play bowling."
Compassion and sincere acts are especially encouraged in March as it is Developmental Disabilities Awareness Month, but students should practice empathy every day, as it is these little changes that lead to the big changes we hope to see in our world.
About the Contributor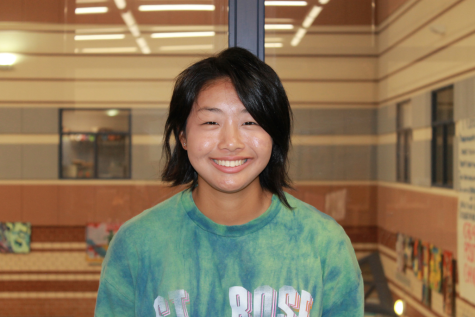 Annie Wang, Overflow Editor & Staff Writer
Hi! My name is Annie, and I'm a senior. I'm involved in Marriotts Ridge's speech and debate team, and I play the french horn both inside and outside of...