GenZHER – A Voice for Young Women
Zikora Akanegbu, a Marriotts Ridge high school senior, is the founder and Executive Director of the youth-led organization, GenZHER, that enables Generation Z girls and women to speak on prevalent issues in the media.
Straying from the typical ideal of teen magazines created by adult writers and executives, Akanegbu took on the initiative of curating this new and profound perspective in which teenage girls take on the work of appealing to people their age. With their publication, this initiative defies stereotypes and labels.
"
When it comes to activism, the voices of young women are always underestimated. However, we're being directly affected by the current political issues. We have personal experience, we have passion, and we have our whole lives to work towards social justice.
— Zikora Akanegbu
With the lockdown in 2020, Akanegbu felt socially isolated from the world, with sudden universal changes that took a toll on her life. However, she created and found a way to connect herself back to the social world, curating change for herself and other girls who experienced the same things as her during the pandemic.
"I wanted to create a way to connect myself back to the social world that the Coronavirus isolated me from…to start up this community that showcased the writing talents of other girls who were socially isolated from their normal too,"Akanegbu said.
Akangebu built an empire during the pandemic. Initially beginning her GenZHER journey on Instagram, Akangebu posted with the intention of GenZHER being a blog, but it eventually caught the attention of girls around the world to where it grew into an organization with an international youth-led team. The reasoning behind GenZHER gaining attention was that girls were enticed by the fact that they would be able to write and empower girls of their generation.
"People became interested and invested within the things we'd write and advocated for in the pieces we published," Akanegbu said.
GenZHER has since evolved into a global organization bringing together female youth from all over the world, reaching 11+ countries, and gaining a significant following. This opportunity gives girls the opportunity to voice their opinions about issues facing women today and on topics that are prevalent in today's society. The pieces written within their Digital Magazine come from the writers' personal experiences and their drive to express their passion towards activism. Stereotypes of race, gender and age are not able to hold back the girls.
"There are so many important issues, I believe, that are plaguing the world at this very moment. When it comes to activism, the voices of young women are always underestimated," Akanegbu said.
Using media platforms like Instagram (@GenZHER_), their podcast, GenZ Hour, and their dedicated GenZHER website, this youth-led organization is committed to intersectional activism, equality, and equity.
Gen Z is known to be the most politically diverse generation to exist. In addition, this generation is the first to have grown up with so much technology at their disposal. For Zikora, creating GenZHER was about providing a platform for the girls of her generation to not only read about news and current events but to have their own thoughts heard. Her hope is that GenZHER will become a global organization that can reach tens of thousands of more girls worldwide.
About the Contributor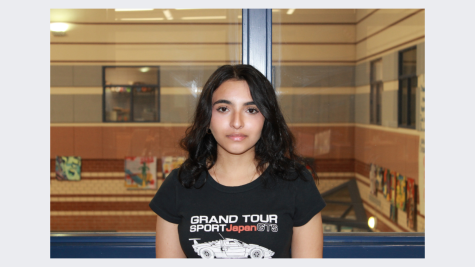 Mnayle Mohammad, Staff Writer
Hi, my name is Mnayle, and I'm a junior. This is my first year in journalism, and I'm a writer. One of the main reasons I joined journalism was because...