Checkmate: The Rise of Chess at Marriotts Ridge
Chess has been booming in popularity lately, and students around the school have been picking up the game. Whether it's their first time moving the pieces or if they've been playing since they were little, students are bonding over the board and meeting people they wouldn't otherwise spend time with.
"My favorite part is just seeing people get together, people you don't normally expect to see playing chess together," Chess Club sponsor Mr. Hong said.
His club has seen many new members in the past few weeks as more and more people are getting into the game.
"[I started playing] recently because everyone else started playing so I thought it was cool and I wanted to play… I like the strategy and thinking you have to put behind it," junior Jasmin Kirkland said.
Like Kirkland, many students have been picking up chess from friends or social media.
Other Chess Club members played when they were little and recently jumped back in.
"I've been playing since I was really young. I played with my dad and just kept getting better. I remember my first board there was cards and you would flip the cards and it would tell you what to move. And I played against my dad and I eventually beat him and it made me like chess more and more," sophomore Jonah Obitz said.
Outside of Chess Club, students play online and watch tutorial videos on social media. In almost every class you can find someone sneaking a chess game on their phone or computer. Chess.com, an app and website for playing and learning chess, is one of the top picks for students.
"Chess.com has allowed me to learn so much really easily and really fast," junior Daniel Goering said.
Chess.com has over one hundred million players and has seen record highs in usage over the past few months. On January 20th, the site had over ten million active players and climbed its way to number two in the app store. Popular chess players and influencers have been taking advantage of the recent boom. Chess Grandmaster Hikaru Nakamura has both a YouTube and Twitch channel that together reach almost four million subscribers. His videos draw attention for their in depth analysis, crazy calculations and great advice. Also in the space is chess commentator and coach Gotham Chess. His YouTube channel has just over three million subscribers, with a million joining in the last two months. His commentary is spirited and energetic and some of his phrases have become very popular. His most famous phrase, "AND HE SACRIFICES THE ROOK!" can be heard within the first five minutes of every Chess Club meeting, and the stare he gives to viewers at the beginning of every video is just as iconic.
For students looking to take their love of the game to the next level, chess tournaments are held in Howard County every few months. The competitions are open to anyone and feature a large range of skill levels. The last tournament was held at Howard High where students played four thirty-minute games to compete for top spots and have fun.
"I played my best and won three out of my four games and got 4th place in the chess tournament," junior Jackson Komin said. "It made me feel ecstatic, I consider myself more of a beginner at chess and the fact that I got 4th place in that tournament really showed that I have a lot of potential. You just gotta keep playing, chess is a game where the more you play the better you get."
Another tournament was just held on March 11th at Marriotts Ridge. This tournament featured cash prizes for the top finishers and medals for each grade's champion. Tournaments like this are a fun way to test skills and compete over the board against other players. There are plenty more to come in the future and they are open for all to join.
Chess is a great game to play against your friends, test your mind, and meet new people, and the recent boom in popularity makes now a great time to jump in.
About the Contributor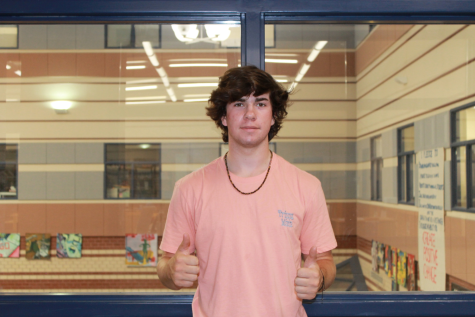 Zach Vernick, Copy Editor & Sports Editor
Hi, I'm Zach, this is my third year in journalism and I am the copy/sports editor. I don't have a doctorate in English or anything, but I did pass...