Students Make Plans for Spring Break
Spring break begins April 1st and lasts until the 10th. Marriotts Ridge students are thrilled to start their spring break after the long year and finally have the time to travel, catch up with work, see friends or visit colleges.
Students who are staying in the area have plenty of fun activities to do with their friends or family and are excited to have the opportunity to relax. For those looking for something to do, many students suggested going outside and spending time with loved ones. The weather during Spring Break is predicted to be warm and sunny
"I'm going to the Bahamas for spring break. [I recommend going] to the beach if you are staying in the area. I'm looking forward to spring break because of the break from school," junior Jack Watson said.
Students shared their favorite memories from their previous spring breaks and reminisced on fond memories like visiting beaches and lakes, and enjoying some well-needed relaxation.
"I'm going to a concert, hanging out at my house and sleeping a lot. I'm looking forward to spring break so I can go to my first real concert, where Duster is playing," freshman Alison Freitag said.
Students who are traveling are excited to see new places, revisit old memories, and see family that they haven't had the chance to. Many students are looking forward to going to tropical and warm places to get them ready for summer.
"I'm visiting colleges. I suggest you go for a hike or walk around. My favorite memory from previous spring breaks is when I went to Denmark and visited my family, or when I went to the beach and spent the whole day in the sun," junior Nadia Klementsen commented.
Students are also looking forward to being productive and getting their license or permit, doing some volunteer hours, or seeing family.
"I'm going to California to look at colleges. I'm really looking forward to spring break because I get to see my sister, and I suggest hanging out with friends and family and catching up on things you haven't done recently," sophomore Ellie Paris said.
Other students are using the time off of school to study for their AP tests, and catch up on missed or future assignments. Some students are preparing for spring break by doing all the assignments they can so they can spend more time relaxing during the week.
"I'm planning on going to Sri Lanka. I'll probably be doing some AP studying and future assignments as well. I'm really excited to have this break from school," senior Anika Herath said.
Congratulations to all MRHS students for making it to the end of quarter three. Many students and staff look forward to seeing everyone back in school after the break.
About the Contributor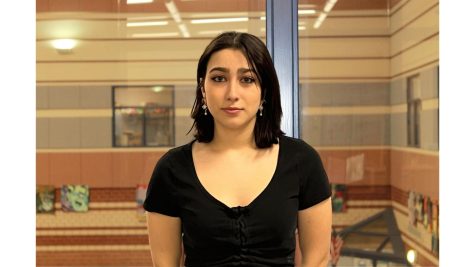 Maya Fauver, Staff Writer
Hi, my name is Maya Fauver and I'm a Junior. I'm in my second year of Journalism and I'm so excited to be one of this year's writers. I like to box,...