Get a Clue About Marriotts Ridge's Spring Production
On March 2nd and 3rd, the Marriotts Ridge Theatre Department entered Boddy Manor to perform their spring play and final production of the school year Clue: On Stage. Featuring the talents of the Theater Company GT class, students took to the stage as the iconic board game characters Professor Plum, Miss Scarlett and more.
Mustangs were eager to see the cult-classic murder mystery film based on the beloved board game brought to life on the school stage, and the production received rave reviews from its audiences.
"On Friday night we had about 500 people in the audience, which has to be a record here [at Marriotts Ridge] for the plays. It was super impressive; the audience was so loud and interacted with us a lot, which was really cool, as it is a show that we need audience participation, we need them to laugh at our jokes. Especially at the end with the big plot twist, they gasped and went on forever, and it was so funny. The cheers at the end of the show during bows were a great way to say goodbye to the department," senior Jadyn Kelly (Miss Scarlett) said.
The success of this production was largely due to the hard work of the student actors, director, crew members and theater teacher Ms. Greffen. Auditioning for their roles back in November, the cast put a great deal of practice and preparation into making the production the best it could possibly be.
"Most of our rehearsals took place in class, and we had tech week, which was our after school rehearsals that added in lights, sound, costumes, makeup et cetera …we had to work on our individual lines and come in memorized when we were supposed to, which helped the group environment be more productive, as blocking is a lot easier when you don't have your face buried in a script, and then of course doing outside character work, [and] researching the time period to understand the setting of the show," Kelly explained.
With two acts and a seventy page script to perform, the actors had a great deal of work to do. The actors had to keep a quick pace while keeping themselves in time with technical elements, including specifically timed sound, music and light cues.
"I think Clue itself as a show is extremely difficult, just how line intensive it is… it has to keep moving in a very fast-paced rhythm.. It took a lot of … boot camp training to get all of our lines down and get it to the correct speed," senior Em Muryhina (Yvette) reflected.
While most of the show's tone is frantic chaos in light of a mysterious murder, the actors and directors had to remain very calm and organized behind the scenes to make sure the show went smoothly.
"I always had a notepad with me.. Every little thing I wrote down, and then I went back to the scenes and marked the page numbers. It was a lot of.. writing notes. If I didn't do that, I would have been so disorganized," junior and student director Pranavi Gorantla said.
In their thorough preparations, many of the students were thoughtful of the performances to come and left the twists and turns of the mystery a surprise for their family and friends.
"I read over the script a lot, but I didn't practice with my parents because I didn't want to spoil [the show] for them because I thought they would enjoy it," freshman Matvei Kholovski (Mr. Green) said.
In the midst of all this hard work, the students formed close friendships with one another.
"The most exciting part was working together with everyone and having a blast. We are very closely interconnected as a class, so it was fun to work together and make stupid jokes," sophomore Yuvan Jagannathan (Colonel Mustard) said.
The show's small size allowed the cast and crew to become a family.
"I think that our cast is one of the most unique because it's so tiny. We only have eleven actors, yet all the cast members are completely different. They come from different grades, and they have different hobbies, so it seems like such an unlikely group of people to come together… but we had the biggest blast ever," Muryhina said.
For many of the underclassmen in the cast, Clue was their first high school show and was the perfect welcome to the department.
"My favorite part was working with everyone, it was such a great experience. Especially as a freshman… how everything goes in high school was new to me, so it was great working with others who were very supportive," freshman Abby Livay (Ms. Peacock) said.
The cast and crew were extremely pleased with their performances, and the actors agreed that the audience's laughter, gasps of surprise and applause made the show even better. If you missed the chance to see "whodunnit," be on the lookout for the upcoming titles of Marriotts Ridge's 2023-2024 theater season.
About the Contributor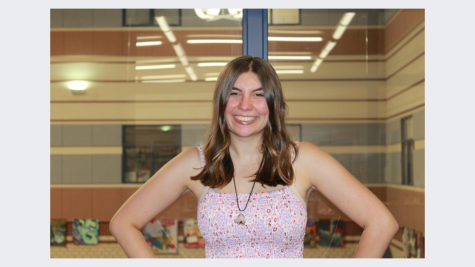 Annie Sarlin, Editor-In-Chief
Hi, my name is Annie and I'm so excited to be serving as your Editor-In-Chief this year! I'm a senior and this is my third year in journalism and I...