Mustangs Spring Into Pep Rally And Spirit Week
With the winter chill fading away, Marriotts Ridge High School is ready to welcome the spring season with open arms. As the week of April 11th came along, Mustangs were gearing up for a week of excitement and school spirit during the annual spring spirit week. The highlight of the week was the much-awaited pep rally, where students showcased their enthusiasm with cheers for performances and their classes as they played games including a relay race, limbo and tug of war.
"Coming back from break is not fun, and nobody wants to come back, but spirit week gave us something to look forward to. The pep rally is always so exciting, and I feel that spirit week just overall makes everyone happier and boosts everyone's moods," freshman Mahira Rahman said.
The week kicked off on Tuesday with Tie Dye Day, where students and faculty decked out in colorful tie-dyed apparel. Wednesday's theme was Wild West for underclassmen vs. West Coast for the upperclassmen. Students showed off their best cowboy hats and flannel shirts or beachy attire. The real competition was on the volleyball court, where seniors beat the juniors in a close match with 25-24, while sophomores were victorious after battling it out with freshmen in a ping pong tournament.
"Everyday it was so exciting to see what people were wearing, and it felt fun dressing up to see what everyone would think of you and your outfit," Rahman said.
Thursday's theme was Soccer Moms vs. BBQ Dads, and students embraced their inner suburban parents with lawn chairs, grilling aprons and team spirit wear. Finally, on Friday, each class was decked out in their assigned Maryland color for the big pep rally, which promised to be the highlight of the week.
The pep rally started off with a bang, as the spring sports teams ran across the field in a blaze of school pride. Soon after, each grade level competed against each other in a relay race. From there, excitement started to build as students took part in a variety of games and challenges, including limbo, tug of war and the log roll.
"When we first came into it we didn't expect to win at all. We beat the seniors first, which was new, but we all thought we actually had a shot for this. After watching the sophomores and the juniors go, and it was our time, the freshmen were so excited and we just kind of felt it. We thought, this is it, we're going to win this," freshman Spencer Grams said.
In a surprising turn of events, the freshmen boys managed to out-tug their senior opponents in their first round of tug-a-war. Undeterred by their initial victory, the freshmen then went on to face the sophomores, who had just defeated the juniors in their own match. The underclassmen are initially put against the upperclassmen to create a small challenge, but the freshmen emerged victorious once again and the school buzzed with excitement over the freshmen's impressive performance.
"The most memorable event for me was during the Pep Rally, when we actually won an event. We won the new event, the log roll with the floaties," junior Henry Merkel said.
The Log Roll game is a new addition to the pep rally games where students must roll underneath giant pool floaties in order to make them move across the field and make it to the finish line.
Throughout the rally, the dance team and Poms performed dazzling routines, showcasing the incredible talent of our school's student body.
"The activities at the pep rally were not all just strength based and weren't something only sports people could do. All of the games were something we could all laugh at and gave the classes some friendly competition," sophomore Bredon Payne said.
In the end, it was a well-fought battle, with each class bringing their A-game and trying their hardest to win. Each grade emerged victorious in the different games, all earning bragging rights and school-wide recognition for their incredible effort and teamwork.
Overall, Spring Spirit Week and the Pep Rally brought a sense of excitement and community to the school. As students and staff look back on the week's events, they'll remember the cheer, the competition and the fun start to the 4th quarter.
About the Contributors
Sumaira Uddin, Staff Writer
Hey! My name is Sumaira, and I am a junior. This is my first year of journalism, so I'm relatively new, but I'm excited to do and learn new things....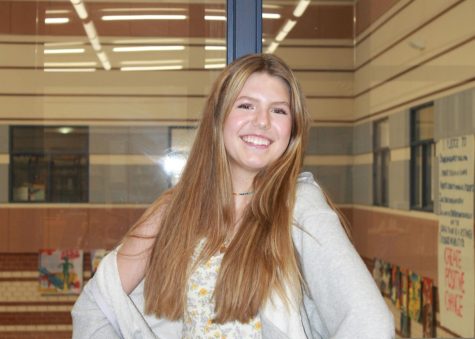 Meghan Larsen, Social Media & Photo
Hey y'all! My name is Meghan, I'm a Junior, and this is my 3rd year in journalism. I love all things social media and entertainment, so my job on the...