Mustangs Sign Up to Save Lives: FBLAxRed Cross Blood Drive
The American Red Cross Club and Future Business Leaders of America Club (FBLA) teamed up to host a spring blood drive during school on Thursday, April 27th. Students were encouraged to donate blood to help save lives and learn about the importance of blood drives.
The Red Cross Club at Marriotts Ridge initiates fundraisers and community service activities to provide aid to those in emergency situations. FBLA is a club focused on business and leadership development through competitions. However, despite primarily focusing on business-related matters, the FBLA Club has always been involved in blood drive service projects as a way to contribute to the community. Although past blood drives were all run by the FBLA Club, they've decided to collaborate with the Red Cross Club.
"This started almost a decade ago with FBLA. We always think it's important for each club to have a community service project so this was how FBLA decided to give back to the local community," director of MRHS FBLA Mrs. Miller said.
Blood drives have the ability to save lives by providing blood transfusions for patients who have lost blood due to injury, surgery or illness and provide students with the opportunity to learn about the positive impact blood donations have. Hosting the drive during school hours proved to be especially challenging because it required a great deal of planning to make sure everything ran smoothly.
"Someone from the Red Cross came and spoke to us about the guidelines, and gave us the requirements needed for how many people we need to collect and the steps needed to recruit members. We also worked with the Red Cross club at our school and coordinated among them to help recruit members. That's what we're doing at lunch right now. Also, we have to work on doing a bit of advertising in the school, like there's a poster in the commons right now and we're recruiting people at lunch right now which is another thing that was important for planning," senior and FBLA president Leah Liu said.
Many members of the Red Cross Club and FBLA put much effort into planning and were excited to help out the community by volunteering at the blood drive.
"I'm volunteering to donate blood because I've always wanted to donate blood since it's an easy way to help people out. You don't have to give money or anything and your blood is being used for a good reason. I'm also going to be volunteering with Red Cross, like ushering people to where they can donate and giving them snacks after," sophomore Reem Abdelghani said.
Students volunteering played a crucial role in the blood drive as they provided essential support to ensure it ran smoothly and efficiently. The volunteers provided a welcoming atmosphere for donors, set up the equipment, monitored donors after they had given blood, provided refreshments and ensured that they felt well enough to leave the donation area.
"We're going to escort students to the place to donate blood and make posters after school to advertise the blood drive and spread awareness. I wanted to help out the community by volunteering," sophomore Sanya Gupta said.
The volunteers will not be the ones drawing the blood though—nurses with the Red Cross will be there collecting the blood from donors. The blood draw team makes sure that students fit the requirements of being at least 16 years old and at least 110 pounds so they can safely collect their blood. Communicating with the blood draw team and Red Cross Association was one of the many essential steps the Red Cross Club and FBLA had to take for planning the blood drive.
"We've been planning this since last school year. We plan the blood drives a year in advance with the Red Cross Association here in Maryland. We connect with our representative at Red Cross, who then connects us with a blood draw team, and then in the building we need to get permissions from all the different groups," Mrs. Miller explained.
Many students donated during the school day and felt proud they were able to save three lives.
"I was just about to turn 16 when the blood drive was announced, and now that I was allowed to do it, I couldn't think of a reason not to. Basically without hesitation, I wrote my name down on the list. You can save up to three lives just by donating your blood, and it takes only around an hour of your time," sophomore Hannah Tark said.
The Red Cross and FBLA volunteers helped set up the auxiliary gym so it would be prepared and comfortable for those donating blood.
"I was very comfortable with the process and everyone seemed to know what they were doing. Most of the time you're there, you are just filling out surveys and forms…There was some fun music playing and everyone was very nice. After you donate you have to sit for around 15 minutes until they let you go, but the whole thing is definitely worth it," Tark mentioned.
The FBLA and Red Cross Club both spent a deal of time planning the spring blood drive in order to support a good cause. Donating blood as a student is an opportunity to save lives, improve one's health and give back to the community.
About the Contributors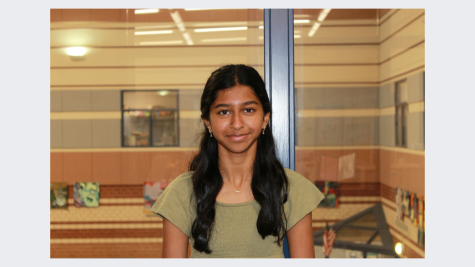 Sahasra Pola, Staff Writer
Hi, I'm Sahasra Pola! I'm a sophomore, and this is my first year of journalism. I am part of the class council at school, and I like to bake, read, and...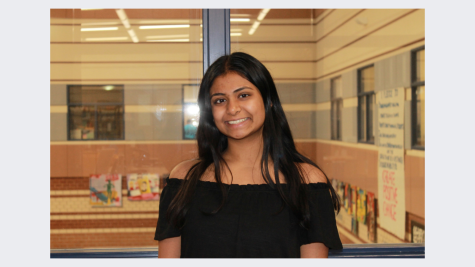 Isabel Mathews, Managing Editor & Head of Multimedia
Hey there! I'm Isabel, and I am a senior. This is my third year in journalism, and I am serving as Managing and Multimedia Editor. I'm involved in Class...