School Shooting Events Raise Questions On School Safety
On Monday, March 27, three children and three adults were killed in a shooting at The Covenant School in Nashville, Tennessee. The tragedy is one of the many reported acts of gun violence this year, including recent attacks at Michigan State University and at a teenager's birthday party in Dadeville, Alabama. In light of the increased reported incidents of violence, questions of how to protect school-aged children have emerged. As students begin to hear about these events through the news and social media, they often feel anxious and scared for their safety within the school building.
On a global scale, the call to stop gun violence in schools is stronger than ever. Protests have been held, donations gathered for the victims' families and discussions of how to prevent these threats have come to the table. Controversy arises when it comes to the proper way to prevent these tragedies from occurring. Some believe that the best solution is to ban firearms entirely while others believe that greater security is needed to protect students. Regardless of people's opinions about the best way to stop these attacks, the vast majority agrees that the violence needs to stop.
Here at Marriotts Ridge, these incidents are taken seriously. To help reassure students, Principal Dr. DiPaula spoke of the recent events and provided insight into the security measures the school has in place to protect its students and staff.
"The safety of our students and staff are our top priority. These recent acts of gun violence are tragic and are a constant reminder to us that we must remain vigilant with our safety procedures and emergency preparedness," DiPaula said.
Marriotts Ridge works hard to ensure the security and comfort of its students. Time is dedicated every year to safety drills, including practicing what to do and where to go in the event of a lockdown. This drill ensures that students know the procedure for if there is ever a threat within the building.
The school's day-to-day practices also help to ensure the safety of students.
"Our building is locked down during the school day and when doors are open, we have staff members monitoring. All visitors to MRHS have to be buzzed in through the front office, then we run a background check before they enter any other part of the school building. We have a full-time Howard County Police Office and a full-time security assistant at school daily and during many of our evening events," DiPaula explained.
In these potentially stressful times, the administration wants to remind students of the resources they have access to in the school community.
"If any student is nervous about school safety, then they should reach out to an administrator so that we can share more details and set them at ease. Students are also one of our greatest safety resources. If you see something, say something," DiPaula said.
If students are feeling anxious about attending school or simply want someone to talk to, they can also speak with a trusted teacher or staff member, make an appointment with their guidance counselor or go see the school psychologist, Ms. Quick.
Despite these attacks, students are reminded about the safety precautions taken so that they can continue to feel safe and comfortable in a school environment.
About the Contributor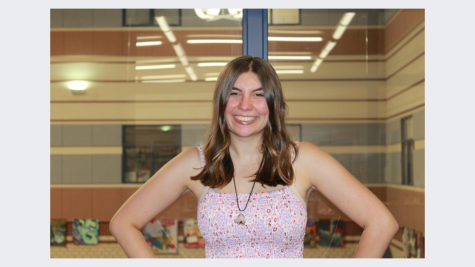 Annie Sarlin, Editor-In-Chief
Hi, my name is Annie and I'm so excited to be serving as your Editor-In-Chief this year! I'm a senior and this is my third year in journalism and I...