Students 'Speak Now' About Taylor Swift's The Eras Tour
Taylor Swift's: The Eras Tour started March 17, in Glendale, Arizona. Swifties shared their excitement for Taylor Swift's new tour and how they feel about going or not.
The tour goes through Swift's career since the beginning, singing through the eras she has gone through during each of her ten albums. As this tour highlights these different aspects of her life, fans are excited to see her perform and showcase the growing success of her career and the person she has become as well.
"I love the set list and how it goes through so many eras, but I think the surprise songs are my favorite part of the set list because it gives individuality to each of her performances," senior Kelly Maclean said.
There are many aspects of the tour that fans are looking forward to, especially after her last tour was canceled due to Covid. At each concert, two different surprise songs will be played for the audience, which many fans are excited for, as well as the performance she will put on with her wide variety of songs on the set list, the special effects, her outfits changes and much more.
"She knows exactly what her fans want and what they have been waiting for since the Lover tour was canceled. She really knows how to put on a show, from the special effects to the polar change in moods, the outfits changes… Everything is perfect and I am so excited to see her," sophomore Simar Saini said.
Fans plan to dress up as their favorite Taylor Swift album, many showing up in sparkly outfits, or rather than an album, references to past music videos, lyrics of a song and more. Fans are excited not only to see Taylor Swift perform, but be among others who appreciate her as well.
"It was so much fun, and it was really cool being in a room with people who love Taylor as much as I do. It was a very positive atmosphere, and everyone was having a really good time," Maclean said.
While many students struggled to get tickets for this popular tour, there were many successful students who were able to. Fans are excited to be attending especially since this is Taylor Swift's first tour in five years, the last one being her Reputation Stadium Tour in 2018. "I've been a Taylor Swift fan since I was about five years old, and now I get to finally see her in person," Saini said.
On the other hand, there are also many students who were not as successful in getting tickets; they were left empty-handed after waiting in line for so long. After Taylor Swift released her most recent album, Midnights, tickets were so high in demand that all tickets were sold out just from the pre-sale.
"The fact that so many people signed up, and then [Ticketmaster] just messed everything up. It's so frustrating, you wait in the line for hours and hours and you don't get the tickets," junior Kathy Thomas said.
Many students are trying to get last minute tickets as well, hopeful that prices will be lower closer to the concert date.
"Hopefully the week of, the prices will be really low… that's what everyone is saying, if you get the tickets two, three days before, the prices are pretty low," Thomas said.
The tour has been a huge success for Taylor Swift and she continues to be one of the most relevant and famous people in the music industry, breaking many records of her own and in the music industry with this tour. Though many fans have a long wait ahead till they are able to see Taylor Swift in person, many are excited and anticipate an unforgettable night.
About the Contributor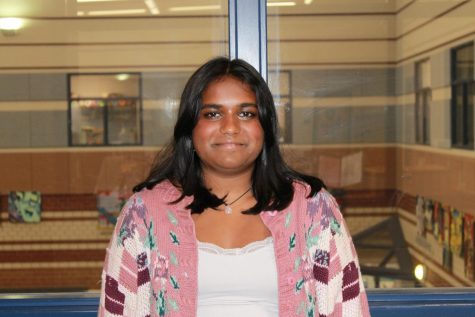 Sami Janakiraman, Staff Writer
Hi, my name is Sami! I am a sophomore in my first year of journalism and I am a writer this  year. I enjoy reading, cooking, and I play tennis outside...