Music at Merriweather: The Concerts Coming to Columbia
As the temperature outside gets warmer, Merriweather Post Pavilion prepares to open for the 2023 concert season. The Marriotts Ridge community begins to scour ticket sites, hoping to snag a spot to see their favorite artists.
Since the outdoor venue's opening in 1967, it has been a popular destination, often reaching its 20,000-person capacity. Located in the Merriweather District of Columbia, the venue is surrounded by a wooded area known as "Symphony Woods," where music can even be heard by those without tickets.
The district also features plenty of food options aside from those offered at the concert venue, including options at the Columbia Mall and the scenic lakefront that make for the perfect night out.
"It's very convenient to have your parents drop you off; it's near the mall so you can get food before or after," senior Bella Mulroe said.
Having a local venue like Merriweather also has benefits such as proximity because concert-goers are more familiar with the area and it decreases travel time.
"Being less stressed about traffic and knowing the area better is nice because when you're in an area that you're not around typically it's just more stressful at night," sophomore Gabrielle Paris said.
The venue itself features both pavilion style seating, and a vast grassy lawn, where concert-goers may bring chairs and blankets to set up their own area. As the night settles in, the organized lounging of the lawn slowly turns into a massive dance party.
The lawn tends to be more popular because of the freedom it provides, allowing for mosh pits full of excited fans.
"The energy in the lawn is a lot better and it's usually younger crowds, so it's easier to find people that you know, and meet up with friends," junior Amanda Gretchen said.
Primarily featuring artists from rock, pop, and country, Merriweather has been known to host some big names including Post Malone, Led Zeppelin and Chris Stapleton, and this summer is sure to be no different.
"Going to the Lord Huron concert at Merriweather last year, it was the best concert I've ever been to. It was raining that day, and people were out dancing and everyone was just singing together. It was great. 10/10 energy," Gretchen said, remembering last year's concert season.
The summer 2023 lineup is packed with names that many know and love from all genres. Country concerts tend to be popular, so Merriweather has made sure to pack the lineup with artists Luke Bryan, Shania Twain, Jason Aldean, Tyler Childers and the Zac Brown Band set.
"I just know that a lot of my friends go to the country concerts in the summer, so I know that I'll see people I know there," junior Sakshi Singh said.
Names like Arctic Monkeys, Noah Kahan, Steve Lacy, and Weezer are on the docket for the more indie/rock crowd, and there are even a few nostalgic headliners like Big Time Rush and Louis Tomlinson. Merriweather is also no stranger to festivals, including the annual All Things Go that will this year feature artists such as Lana Del Rey, Maggie Rogers, Boygeniusand Carly Rae Jepsen.
As the hometown venue, most locals have been to at least one concert at the pavilion, making memories that stay with them for years to come. Merriweather has become the go-to spot for a fun summer night.
Merriweather is not only a go-to spot for a fun summer night, but also a go-to for a fun summer job. With a range of employment opportunities for students starting at the age of 14, many kids find it the perfect way to save up when school's out.
"I was talking about wanting a job, and a lot of my friends were saying they already worked there, or their parents work there," said sophomore Simar Saini.
Senior Natalyn Taylor explained her job in one of Merriweather's many concession stands where guests can purchase an assortment of snacks and drinks.
"Helping point of sales by running food and drinks, and giving it to the customers."
She heard about the job from fellow senior Emily Wolfe and applied after learning how fun and easy this job would be, and "working with [Wolfe], someone [she] know[s], it wasn't as intimidating."
Overall, this year's concert season is sure to be one for the books. For updates on the lineup and tickets, make sure to keep an eye on the venue's official website and social media accounts.
About the Contributor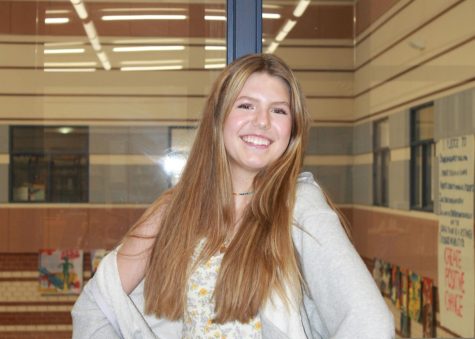 Meghan Larsen, Social Media & Photo
Hey y'all! My name is Meghan, I'm a Junior, and this is my 3rd year in journalism. I love all things social media and entertainment, so my job on the...