Marriotts Ridge's 'Night Under The Stars'
The long-awaited annual dance finally arrived. Marriotts Ridge's Prom took place on May 5, from 7pm-10pm, at M&T Bank Stadium, North Club Level, and was a night to remember for juniors and seniors.
"The place where our dance was at was like the best one yet; it was really nice and spacious," senior Zikora Akanebgu exclaimed.
Prom provided the rare opportunity for Marriotts Ridge juniors and seniors to dress up in elegant dresses and suits while spending the night dancing away with their friends. Besides looking forward to the dance, students enjoyed all the activities and preparation leading up to it. The search of finding the right outfit, enacting promposals, getting dressed up, and obviously, taking pictures for social media.
Angel Dike, a junior, shared what she was most excited for, saying, "I was excited to see what the venue had to offer since everyone kept hyping it up, and honestly,
it was a lot of fun."
There were many opportunities to find the perfect prom outfit, along with ordering corsages and boutonnieres. Charities and fundraisers were hosted to give students from Howard County the chance of receiving a loaner dress or suit, like the Becca's Closet Fundraiser. High schoolers attending prom had many different options to choose from, and looked their finest on Prom Night.
The Prom's DJ was deemed as the best one yet as they played tasteful music that ranged from Taylor Swift to Youngboy for the students to dance to. Along with the endless dancing, students at Prom had a variety of appetizers and desserts served to them.
Dike said, "The food options were really diverse; they had taquitos and egg rolls and they tasted okay."
Other students chimed in to share their excitement, especially seniors, as Prom was their last high school dance. My-linh Banks, senior, squealed once Prom was mentioned to her, saying, "I was so excited, but sad at the same time. It was my last dance, and I definitely made the most of it."
AfterProm started at 10:30 pm and was an event hosted by the PTSA, so students could find a safe and exciting way to continue the party even after Prom had ended. To encourage people to attend the AfterProm at the Stratosphere Social in Eldersburg, there were prizes given out, like TV's and cash.
The winner of the $500 cash prize, at AfterProm, was a senior, Jacob Lee. Placing 7 tickets into the ballot, Lee was shocked, but excited when his name was called out as the winner. Five hundred dollars is a large amount of money and it couldn't have been given to Lee at a better time.
"Since I'm a senior, and going to college soon, I plan on buying myself a better laptop with the money I got," Lee said.
This year's prom served as a "Night Under the Stars," where students of Marriotts Ridge danced the night away with the people they love.
About the Contributor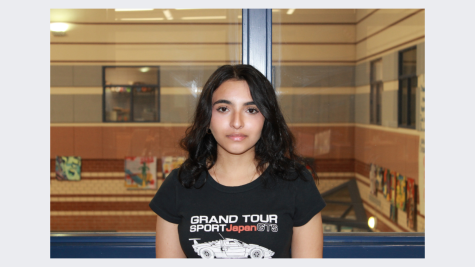 Mnayle Mohammad, Staff Writer
Hi, my name is Mnayle, and I'm a junior. This is my first year in journalism, and I'm a writer. One of the main reasons I joined journalism was because...