Outside Organizations Work to Inspire Change for Student Equity in Schools
Community organizations hope to inspire changes relating to student equity.
The Howard County Public School System has been working to embrace diversity and inclusion in their schools, committing to eliminate disparities in access by encouraging opportunity and inclusion for every student and staff member of the school system. This begins with building a community in schools between students and staff where everyone is feeling valued and involved.
In order to address these issues, Superintendent Dr. Michael Martirano has issued statements on the school system's website to emphasize the importance of community inclusion and mutual respect. HCPSS offers a variety of opportunities for staff to grow professionally by teaching bias recognition and creating strategies to remove bias in school.
A key part of promoting these values is creating a classroom and a course of study that reflects these values and actively combats racism. As Erika Chavarria, Black Lives Matter At School 365 Coalition of Howard County (HoCo BLM) Steering Committee member said the organization takes a "deep critical look… [at the] curriculum [students] are provided with to see whether it's culturally responsive and anti-racist in nature,… and whether they are creating a safe and welcoming environment for all students."
The BLM At School 365 Coalition of Howard County is an organization of educators, parents, and community members fighting for racial justice in school. In the past three years during the first week of February, there has been a "The Hoco BLM at School Week of Action". The previous two years, they were successful at getting the Howard County Board of Education to pass a Black Lives Matter at School resolution which officially recognized the week of action valuing the incentives.
"Teachers need to be aware of their implicit and explicit bias and racism," Chavarria, "HoCo BLM" Steering Committee member said. "They need to be reflective of their discipline practices and how their own racism manifests in the classroom."
HCPSS is committed to reducing disproportionate discipline practices, including reducing the need for disciplinary actions, ensuring consistency in suspension usage, and meeting school quality targets for discipline proportionality, per HCPSS.
"Teachers can be more self-aware of what's going on for students," Tomisin Laniyi, a junior, said. "Everyone has the right to speak their voice, but be aware of the words you use."
Professional learning is vital to instilling the tenets of diversity, equity, and inclusion. Ensuring nurturing, inclusive, and safe learning environments for all students is how relationships can be made.
HoCo For Justice, is a multicultural youth collective in the Howard County area dedicated to the liberation and success of black and brown lives locally and nationally. Their primary objective is to dismantle racism and its resulting oppressive systems through coadaptation, education, and legislation.
"It all starts with relationships," Sara Wunete, HoCo For Justice Director of Operations, said. "I built really strong relationships with teachers, because they were willing to get to know me as an individual… to sit down to get to know me and see me more than a person in my classroom or an individual that's getting a grade."
Student voice circles and other initiatives deepen staff members' understandings of student perspectives by inspiring new teaching and learning experiences that are engaging and inspiring. Through learning from their perspective, it gives staff insight into their strengths and weaknesses.
However, teachers still need to try "to establish a relationship with their students," Ms. Roberts, a CTE teacher, said. "Then they can listen a little deeper. Once they do, that door starts to open to make… [the] classroom more comfortable to be able to express themselves…but this doesn't mean singling them out."
Deciding to make the first step in the relationship is important for some students. Starting one conversation about an interest you know about them can deepen a relationship making the student more comfortable in the classroom.
"It even goes further than having to be someone that you see everyday", Julien Young, HOCO for Justice Director of Digital Media, said. "There were a ton of teachers for me where I was walking in the hallway and you get that smile, nod, or 'how's your day going?'. Then, that conversation moves farther. You're presenting yourself as a teacher with the option to take in your student; the option to just be there for somebody even if they don't need you to. Having that option, knowing somebody is going to catch you if you fall, does a lot because then you're not scared of falling anymore. Then, if they do need to exercise that option, teachers are there for them."
The majority of schools that are implementing restorative work have made significant progress in establishing restorative school cultures. The elevation of students' voices is a fundamental strategy for schools to establish a more inclusive classroom and school community.
About the Contributor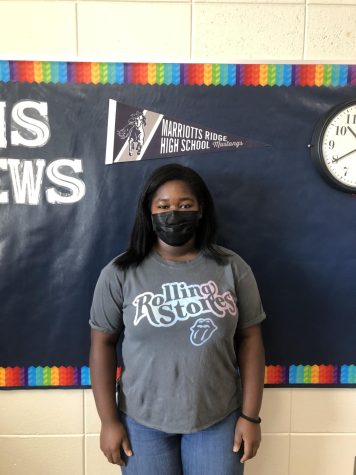 Kierstin Delk, Feature Editor
Hello, my name is Kierstin Delk. I am in Journalism III and work as a staff writer and feature editor. In my free time, I like to hang out with my friends...