COVID Interrupts Thanksgiving
Due to the Coronavirus, many students at Marriotts Ridge will not be able to celebrate Thanksgiving as they usually would. Thanksgiving is a great time to get together with family and take a short break from the usual stress of school and work, but as the number of cases go up, it seems like students will not get the chance to experience their normal Thanksgiving traditions.
Most families get together for a big dinner on the night of Thanksgiving. There are lots of people, lots of food, and lots of fun times with family and friends. Students at Marriotts Ridge had a variety of responses when asked what their favorite part about Thanksgiving is, many of them mentioned food.
"My favorite part of Thanksgiving would definitely be the food. I love eating, hanging out with my family, and then falling asleep after the big meal," freshman Mia Heyward said. People spend hours working hard to make classic Thanksgiving dishes, like turkey, which can be enjoyed at dinner. The meal is usually very elaborate and much more thought and preparation is put into it than any other meal of the year.
It's likely that, this year, the Thanksgiving meal will not be as festive. COVID restrictions are stopping people from having the large gatherings. so making a massive meal could be viewed as pointless.
"We're planning to order Chinese food and just stay home this year, instead of a big dinner with my cousins," freshman Laura Himmel said. Like her family, many others will be having a more casual dinner with just immediate family as opposed to their usual traditions.
Another activity being limited this year is traveling. Whether it's to visit family or to take a short trip just for fun, the five day break is usually a perfect time to get out of town.
"My family likes to take advantage of the days off and take a short 2 or 3 day trip during the break," sophomore Ahad Shah said. Unfortunately, vacations are not an option this year for most families, so they will have to wait until next year for their getaway.
Despite all of the changes, students, who have been working hard since September to complete their assignments in this new online environment, can still enjoy the lack of homework and classwork over the holiday break.
As many seniors scramble to submit college applications, many are looking forward to the break to get their essays and paperwork completed. "I am looking forward to a break from school and some time to work on my college applications," senior Manaswee Mishra said.
Even though Thanksgiving will look a little different this year, it doesn't mean students can't enjoy it. The break is still a break, and not all aspects of a traditional Thanksgiving are gone. This holiday is about being grateful for what you have, not being bitter about what you're missing out on.
About the Contributor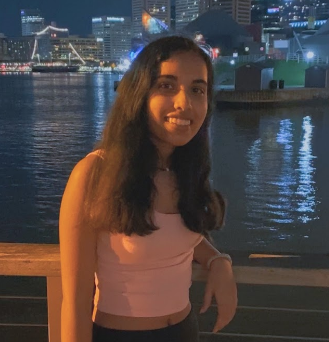 Sakshi Singh, Staff Writer
Hi, I'm Sakshi Singh and I'm a freshman . This is my first year taking Journalism, I'm a staff writer. I enjoy playing volleyball and spending time with...