A COVID Black Friday
Americans know Black Friday as one of the most chaotic days of the year when millions of shoppers scramble to stores to find marvelous deals. However, this year will be a whole new level of franticness for retail stores and consumers due to the new regulations put in place regarding COVID-19.
Although the numerous price drops on items you have been keeping your eye on for months is extremely irresistible, the pandemic creates a major setback. Consumers have to make the tough decision of whether or not they want to take the risk of continuing their yearly tradition. While many are unsure of the plans retail stores have in place, Mustangs shared their thoughts about this unusual Black Friday.
Due to the large number of shoppers in stores on Black Friday, capacity is the main concern customers have. Students were asked what they expect from stores as far as the capacity limit, cleanliness, and social distancing requirements during Black Friday.
Jenny McIntyre, a senior, said, "I think stores will be regulating the same way as they are now, by counting the number of customers going in and out of the store. I think cleanliness will start off strong but may slowly decrease as the day goes on."
With employees mainly focused on assisting customers throughout the day, it seems highly possible that stores could fall behind on keeping up with constantly disinfecting areas.
While McIntyre believes stores will remain the same with the policies they already have in place, another senior, Kiana Kadivar, said, "I expect stores to have a much lower capacity limit during Black Friday, while having the stores cleaned multiple times to prevent the spread of the virus. Additionally, I believe people must maintain being 6 feet apart and, if not, they should not be allowed in the store."
It is likely that some stores will lower their capacity limit in order to maintain a safe sanitized environment, preventing the spread of the virus. Despite the safety precautions, many students are worried about the possibility of super-spreader events.
Caroline Meininger, a senior, said, "I think that doing Black Friday will not be the best idea because it is already chaotic without the pandemic, so I feel like it will be even worse this year. I'm sure most places will still have it."
Some students aren't as worried. Senior Caroline Anderson said, "as long as the same precautions are in place and the same percentage of people allowed in stores remains, I don't see how revising anything would make a difference."
As all shoppers know, this is one hectic time of year, and the pandemic does not make it any less wild. Financially, stores who choose to shut down will be negatively impacted. Businesses are aware that is a popular time to sell, so if they don't open, they obviously wouldn't receive the revenue they are accustomed to in previous years.
Many students are choosing not to participate in Black Friday shopping this year.
"I will not be participating in Black Friday due to COVID-19 because I think it is an unnecessary risk," said McIntyre. "I will miss the thrill of waking up really early and spending the day shopping with my mom."
Many students share the same thoughts as McIntyre, saying that staying safe is much more important than taking a risk. Kadivar said that she will be "avoiding shopping at places that are very full or have deals that bring in many people to shop there, such as Nordstrom Rack or American Eagle."
For those who are planning to go out, students like Meininger suggest that students should be "going around 9:00 am because that's when the craziness of the late hours dies down."
Avoiding the large crowds seems almost impossible during Black Friday, but stores may be even less busy this year with some people deciding to only partake in online shopping during Cyber Monday.
Anderson said, "I'll probably only shop online." She will not be taking any risks this year and would much rather remain in the safety of her own home.
With all of this being said, everything has constantly changed this year and will continue to do so. Black Friday is one out of many events people need to take into serious consideration. For some, they will continue their yearly traditions of participating in Black Friday, while others will decide to wait for the deals that come out on Cyber Monday. Although it may be a tough decision, everyone needs to consider their personal health as well as the health of their loved ones. It will certainly be interesting to see what American shoppers decide to do this year.
About the Contributor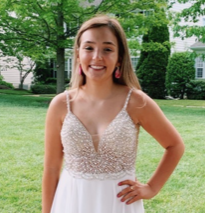 Allie Shafer, Staff Writer
Hello, My name is Allie Shafer. I am in my first year of Journalism, and I work as one of the writers for the articles we produce. In my free time, I enjoy...