Artists Releasing Music in 2020
While so much has changed since the pandemic began, recording artists have continued to release new music, giving people something to look forward to while activity is limited. "Music has really helped me in quarantine, whether it's from listening to it while doing homework or just to kill time, it's nice to be able to have a song playing to comfort you especially in times like this," sophomore Rachel Lee said.
New music has emerged with themes of isolation, sadness, and stress, all of which many people are experiencing right now. "I feel like a lot of music has shifted from being pandemic-related to being more relatable to everyone," sophomore Allison Kim said.
Two very popular music artists, Taylor Swift and Ariana Grande, have both released new albums recently. Grande's Position deals with struggles the singer has faced in the past.
"It's an amazing album, and I love how healing it is. All the songs are so beautiful, and Ariana seems so happy now, which definitely had an impact on her music," sophomore Annie Wang said.
The album is very heartfelt and emotional, revealing that the singer has gone through a lot but is in a better place now.
"Music has become much more personal in the pandemic since everyone has really no other way to express their emotions," sophomore Emma Hoerl said.
Taylor Swift's Folklore was written entirely during isolation and takes on a new level of emotional depth previously unseen from the country-turned-pop icon.
"The lyrics were amazing, and the whole album seemed to tell a story," sophomore Swaha Sarkar said.
Folklore not only showed Swift's emotional range, but it also showed a range in musical style. It's very different from her last few albums. Folklore shows more of Swift's country roots which were lost in previous albums like Lover and Reputation. In fact, the album may be better classified as a folk album.
"For the first time, I liked one of her songs immediately," sophomore Sofia Romero said.
Artist Billie Eilish released a new single on November 12th, much to the excitement of her fans.
"It's one of my new favorite songs," sophomore Cate Early said.
The song definitely inkeeps with her usual musical style but has a different meaning than most of her other songs.
"It makes me feel powerful, unlike her old music", sophomore Emily Hsu said.
A common theme in some of Billie Eilish's older songs was self deprecation, however, "Therefore I Am" seems to be expressing anger at someone else.
"It has the kind of energy we need these days," Hsu said.
R&B artist The Weeknd, who was recently named the performer for Super Bowl 55, released his album, After Hours, in March.
"It's the only release [of 2020] that really stands out to me," Lee said.
The album deals with heartbreak and is composed of mostly sad songs, including tracks like "Alone Again" and "Hardest to Love".
"Since the pandemic, many songs are about depression and staying inside," sophomore Ava Edwards said. After Hours is definitely a very sad album, but has received a very positive response nonetheless.
Dolly Parton, one of, if not the most famous country singers of all time, recently collaborated with artists Monica, Jordin Sparks, Rita Wilson, and Sara Evans to release a new single entitled "Pink", an anthem written for breast cancer awareness.
Before country star Morgan Wallen announced a new double album, Dangerous, he released a single, "More Than My Hometown," about staying connected to his hometown and the things he loves.
"With the pandemic you want to do something because everyday is so boring and the only way to romanticize your life is to listen to music", Isabel Mathews said.
In light of this difficult situation, people are nostalgic for simpler, less stressful times, which is likely where the message of this song comes from. Country singer Luke Combs also recently released his new song "Without You" as a part of a deluxe edition of his album What You See Is What You Get, in addition to the highly anticipated "Forever After All" track. "Without You" is an ode to his family, friends, and fans for getting him to the place where he is today.
Pop-rock band The Killers, who are best known for their song "Mr. Brightside" (2004), released their album Imploding the Mirage in August.
"It's nice to hear a new killer's album, as they don't really release music that often…it's very catchy and consistent with most of the songs that they release which is nice in my opinion," sophomore Abbie Edwards said.
Before the coronavirus shutdowns, Green Day released their highly anticipated album Father of All. The album was very different from the band's previous albums, and people were a little unsure of how to feel about the new, more pop-like, sound that the band was experimenting with.
One complaint was that the album could not be recognized as a Green Day album. Father of All used a lot of digital editing on the vocals, so some people thought it did not even sound like the same band. Despite the album's mixed reviews, the band was planning an almost entirely sold out world tour, and people were very disappointed when it had to be postponed due to coronavirus closures.
Even without live shows, the arrival of new music is something that people can look forward to in such difficult times. The pandemic has given many artists opportunities to write and record, and students should be expecting even more new music in the near future.
About the Contributor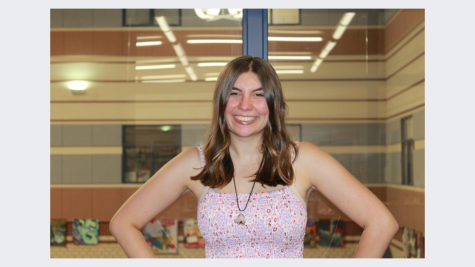 Annie Sarlin, Editor-In-Chief
Hi, my name is Annie and I'm so excited to be serving as your Editor-In-Chief this year! I'm a senior and this is my third year in journalism and I...