Holiday Season Brings Online Shopping Spikes
The pandemic has changed holiday shopping for both shoppers and employees. As COVID-19 surges, business have been struck by a setback of customers. Since reopening, stores have increased safety measures to include: plexiglass covering checkout counters, shoppers being required to wear masks, and hand sanitizer stations being located throughout each store. These measures are in place to ensure safety of shoppers during these challenging times, in turn making online shopping an easier and more convenient way to shop, especially during the holiday season.
"COVID made shopping really different," freshman Manvita Kakarla said. "Stores now have to limit the number of people, and [shoppers] are required to wear masks."
In addition, when shoppers buy clothes online, they don't have the opportunity to try the clothes on. Consumers are forced to buy items and then return them if they don't fit. It has made the whole shopping experience a very different and much longer process than it used to be.
In the first six months of the year, e-commerce sales were $347.26 billion, up 30.1% from $266.84 billion in 2019, according to the latest Digital Commerce 360 analysis of the U.S. Department of Commerce data. Comparatively, e-commerce sales had previously grown an average of just 12.7% annually until 2020. The spike in e-commerce sales largely comes from consumer spending habits, which were changed during the height of the pandemic when there were widespread store closures and stay at home orders.
"I prefer shopping online because it's safer for the vast majority," sophomore Emily Lopez said. "Plus, it's really easy to buy things online, since you only click a couple times and your product is on the way."
Shopping online has become a very accessible method of purchasing, due to many factors. For one, with shelf space being a non-issue online, buyers can turn to the internet to find a wide selection and quantity. Online shopping enables shoppers to do their holiday shopping from the comfort of their home, creating a less time consuming and an easier overall process.
But due to increased online shopping, demand for common products and services such as hand sanitizer, paper towels, thermometers, bakeware and fitness equipment have accelerated as well. This includes extended shipping dates and a longer wait time to receive products that aren't even related to the holiday season.
Estimated delivery times have been extended in many areas, so some shoppers find that they prefer physically going to stores to buy things they need.
"Online shopping has been extremely difficult recently due to extended shipping times, so I prefer physically going to the store," freshman Ruqaiya Ashraf said.
However, one thing most customers can agree on is that they shop a lot throughout the holidays, regardless of whether they prefer shopping at stores or online.
"My family has been shopping more. It is extremely easy to buy a lot during the holiday season," sophomore Amy Duh said.
Holiday shopping is always fun, whether it be online or at stores. As many shoppers continue their first mainly-virtual holiday gift search, it is clear that holiday shopping may never be the same.
About the Contributor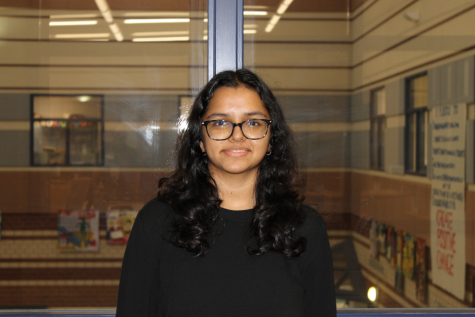 Srileka Krishnakumar, Overflow Editor & Staff Writer
Hi, my name is Srileka, and I'm a junior. I'm in my second year of Journalism, and I'm a writer. I love reading, writing, and I'm involved in a...