Students' Favorite Holiday Recipes
Students share some of their favorite holiday recipes.
There are a multitude of recipes out there, and even the pickiest eaters can find something catered to their taste. During a time when going out to a restaurant may present major health risks, cooking is a great way to spend time at home in a safe way.
"I like to bake apple crisp, it's kind of like apple pie but easier to make" sophomore Sanjna Das said.
Four main ingredients are used to make the filling for apple crisp: apples, sugar, lemon juice, and cinnamon. For the topping, the ingredients include: flour, oats, more sugar, more cinnamon, and butter. Students can find quick and easy apple crisp recipes on Betty Crocker.
Giving gifts is a fun holiday tradition, and making a special dish for someone is bound to be a hit for the food-lover in someone's life. Making something simple, like a brittle, can be a really good option because it doesn't go bad fast, and it's very easy to learn how to make.
"My family has a special caramel brittle recipe. It tastes so good; it's my favorite thing to eat," freshman Annelise Vetter said. "To make the caramel brittle we use graham crackers with butter, caramel, sugar, and peanuts."
This recipe is great because the peanuts can easily be replaced with a different type of nut, or even chocolate. Food Network has tons of brittle recipes, and, with so many different variations, it's easy to find a fun and exciting recipe.
Just like every recipe is different, every family has different traditions. Incorporating food into traditions can make those special moments even more enjoyable and meaningful.
Classic holiday drinks, like hot chocolate, allow for lots of customization and creativity with toppings.
"[My family and I] make hot chocolate and drive around to look at the Christmas lights. I like to put cinnamon and marshmallows in mine" sophomore Caleb Zeleke said.
Some people may prefer putting whipped cream or maybe a few marshmallows in their hot chocolate. Popular cocoa mixes, like Swiss Miss and Hershey's, are commonly sold at most grocery stores.
There are so many different cultures in the Marriotts Ridge community, each with unique foods that they make for their festivities. People from every part of the world pride themselves on their traditional cuisines. Incorporating a dish from a different region of the world is the perfect way to bring a new flavor and taste to the table this year.
"My family makes Ash, which is basically soup. It has a lot of vegetables and noodles. It's traditional Iranian food, so I find that kind of unique," said freshman Yasmina Zadeh.
Ash can be made with a variety of vegetables, and it's a good healthy option because of its great nutritional value. Students can find many authentic Ash recipes online.
Food is an important part of every holiday tradition; the varieties are endless, and every family has their own special dishes. The great thing about food is the creativity involved in cooking. Recipes can be changed to reflect someone's personal tastes and preferences.
Desserts are always popular this time of year. From minty candy canes to chocolatey brownies, the holidays are a season for sweet-tooths to thrive. Baking a dessert, whether alone or with loved ones, is a great way to get into the holiday spirit.
After a long and grueling year, incorporating new and exciting recipes is sure to bring joy to this holiday season.
About the Contributor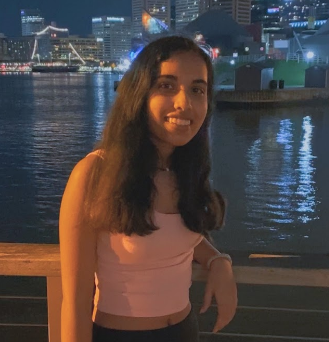 Sakshi Singh, Staff Writer
Hi, I'm Sakshi Singh and I'm a freshman . This is my first year taking Journalism, I'm a staff writer. I enjoy playing volleyball and spending time with...