Magic of the Holiday Season
Students share their favorite parts of the holiday season.
The holidays always make people feel lighthearted and gleeful, and even those who do not celebrate a holiday still have things to look forward to during wintertime. The general atmosphere of this season is one that brings joy to people, because there is so much that this time has to offer.
"It is always nice to see everyone's mood lighten up right before the holiday season," junior Johannes John said. "Winter break gives people something to look forward to."
Even if there is not a specific reason that someone enjoys the end of the year, there is still a feeling of joy in the air, and a general sense of cheeriness that makes people happy. Aside from the atmosphere of the season, another thing that many students look forward to is their week-long winter break.
"I do not celebrate any [holidays] for the most part…I mainly look forward to the break from school," senior Sukriti Roy said.
This long time away from school can be used for a variety of activities, whether it is doing things like sleeping in, finishing up some unfinished work around the house without distractions, or even taking time to work on a hobby.
"I am looking forward to winter break, as I could use the time to finish my college applications, and take the time to rest and recharge after a long and dreary semester," Roy said.
Especially in this time of stress and uncertainty, it is important for students to take time to sit back and relax without having to worry about school.
One of the most important aspects of the holiday season is, of course, the many holidays that people celebrate. Even if a student does not celebrate a religious holiday, like Christmas or Hanukkah, they can still look forward to the excitement surrounding New Years Eve. Normally, it is a great time to get together with friends, and reminisce about all the good times over the past year.
"I don't celebrate any holidays at this time of the year, but I do get together with my friends for New Years," freshman Suhas Chokkaku said.
Unfortunately for those who look forward to holiday parties, this party season is going to look very different than previous years. With most of the world still in strict lockdowns, many holiday traditions will not look the same.
"I usually look forward to being able to carol with my friends in choir and see my family, but those will both look different this year," senior Dylan Buchwald said.
Even though most people will not be traveling or having a party, one way students can enjoy the break is by remembering their favorite memories from the holiday season.
"I really enjoyed going to New York on Christmas when I was younger," freshman Ethan Peters said.
The joy that comes from these memories is a fun way to get excited for the holidays, even when many of the traditions can not be carried out this year. Recalling these events can help students look forward to more exciting events in a post-pandemic world.
One of the most enjoyable parts of the season is the entertainment. There is no shortage of movies or songs that relate to the holidays. In addition, many popular T.V. shows have holiday specials for people to enjoy. Watching or listening to these movies, songs, and shows is a great way to connect with others and get into the spirit of the holidays.
With a general spirit of joy slowly returning to peoples' hearts after an incredibly grueling year, students are getting very excited for the holiday season. As winter break approaches, despite most students not being able to experience some of their favorite parts of the season, the holiday anticipation is already in the air.
About the Contributor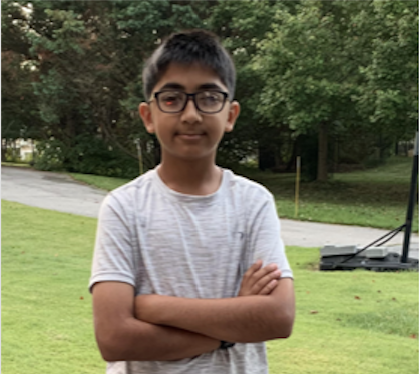 Asgar Talajawala, Staff Writer
Hello, my name is Asgar Talajawala and I am a freshman. I am passionate about sports and movies. In my free time, I enjoy spending time with my friends...