Student-Athletes Train Amidst Pandemic
Student-athletes share how they are continuing their training regiments.
Athletes continue to train to maintain their skills, still not knowing when they can be showcased amidst the pandemic. This year has been difficult to have motivation to train when days begin to run together. Over the past months, athletes have had to become their own coaches to make sure they continue practicing.
"At the beginning of quarantine, I had to workout on my own with what I had… Now I'm doing virtual workouts," junior Lauren Tolle said.
Athletes have had to primarily use the resources at their disposal to continue their training. Many athletes, who used to be able to workout at public gyms, are lacking the necessary workout equipment.
"It's so boring doing home workouts because, at my house, we don't have weights," junior Margaret Hubbard said. "We only have a treadmill, so all I can do is run on that, [which] feels like eternity."
The limited amount of equipment leaves fewer exercise variations, leading to repetitive workouts. As a result, it can be difficult for athletes to find motivation to continue to get up and train on a regular basis.
"I totally understand wanting to take a break… and that's all fair until you've been taking off a week or two weeks," junior Logan Rouse explained. "You need to make sure you workout and stay consistent. Make a schedule and try your hardest to stick to it because then, when you get off the schedule, you… [may] have to modify it."
Make a schedule which plans out a time of the day dedicated to training. Creating training plans can make the challenge of at-home workouts easier.
"Being an athlete at this time is challenging, but you have put that extra step forward to workout and continue to hone in your skills," Rouse said. "This is a good time for you to do that,because you can really practice your sport in all its glory and you'll be much better than you were before quarantine."
Athletes now have the freedom to push themselves to learn something new and expand their knowledge of their sport. This time allows players to learn new techniques and become a more well-rounded athlete.
"[It's hard] not knowing when you're going to have to showcase your skills at a competition," junior Rachel Roberts said. "Sometimes, you feel like you're practicing for nothing, but at the end of the day, even though there aren't any big events coming up, it's still good to practice."
If athletes don't practice, they can regress overtime. Without consistent training, athletes may have to relearn that skill that they once had. Some athletes find ways to motivate and keep themselves accountable.
Rachel Roberts shares how she motivates herself: "I know it can only get better and, in this time [of uncertainty], it's good to focus on yourself."
For now, all athletes are continuing to train, even if it means being creative with at-home workouts. Facing an unpredictable future, athletes hold out hope for their sports seasons to return soon.
About the Contributor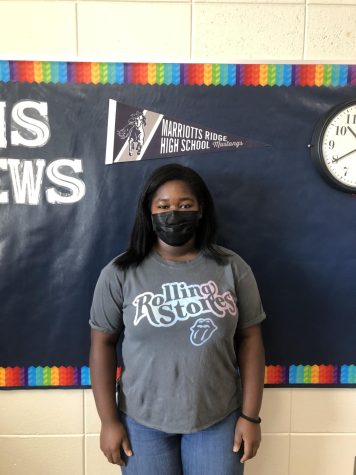 Kierstin Delk, Feature Editor
Hello, my name is Kierstin Delk. I am in Journalism III and work as a staff writer and feature editor. In my free time, I like to hang out with my friends...