How Sports Will Differ Without Fans in Stands
Senior fall sport athletes were pleased to hear that their last high school sport season could begin on February 13th, but their last season is going to be different from previous given the COVID-19 precautions that are in place.
The county has provided guidelines and regulations for practices and games in order to prevent the spread of the virus between the athletes and keep everyone safe, which has allowed for the players to return back to the field. The athletes participating in sports right now are putting themselves at risk and they are aware of that.
"With returning to the field my concerns are definitely having to be quarantined or getting the virus," senior Morgan Lee said.
Before the pandemic, most athletes' preseason concerns were simply if they were in the needed physical shape to play to their best ability. Now, many athletes, especially seniors, are worried about contracting COVID-19 and being stripped of yet another event that seniors look forward to as upperclassmen, their last season as a Marriotts Ridge athlete.
A large part of being a high school athlete is the team itself and the strong connections built among teammates on and off the field through practices, pasta parties, and even just passing each other in the hallways of the school. With safety precautions in place, means of communication for the players have become harder due to required social distancing on the field and not as much off the field communication due to virtual and hybrid school. A potential concern is that the teams will not be as connected as years prior.
"I hope that my team will still be as connected and that we will be as good of friends as we have been in the past. When we are far enough apart to abide by the regulations, we can just talk louder and we will still work to gain connections with one another and Coach Khouri. I will try my best to keep them motivated," senior soccer player Cody Blessing shared.
Many of the players on the varsity teams at Marriotts Ridge have played with each other in prior seasons, therefore connections have already been built, and seniors can stay hopeful that they will get to experience the family that comes with being a member of a sports team one last time.
Not only will the season look different for the players directly on the field, their games will also not be filled with bleachers full of friends and classmates cheering for them.
For many senior athletes, having support out at their last season concludes the experience of being an athlete at the school, and without the watching eyes of hundreds of supporters, team morale could be affected.
"At the end of the day, none of us play for fans. We play for the love we have for the game. Football isn't a game you can play for the wrong reasons or you will get laid out, so I don't think [having fewer fans] will affect our team," senior Cole Tran said.
Senior athletes are very relieved that their last season was not taken away from them, but the seniors who normally fill the stands are disappointed that they will not be able to go watch a football game and show their support.
"Although I am happy that all of the senior athletes are getting a final season, as I am also one, it is hard accepting that I will not be standing on the bleachers on a cold Friday night cheering for our football team. I looked forward to one last year of getting ready with friends, dressing up in the spirit for that game, going to the game together, and having a memorable night," senior Maggie Merill said.
Senior fall athletes are experiencing a unique last season, but most are just all happy that they have been able to step on the field one last time. Regulations and procedures have affected and created a new normal for these athletes, but these challenges will not stop the senior fall athletes from creating an unforgettable senior season.
About the Contributor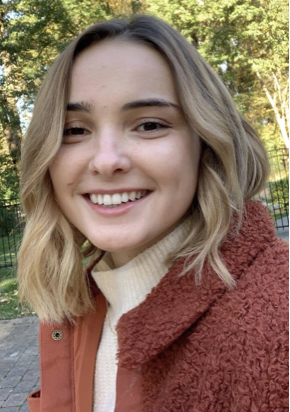 Jenny McIntyre, Staff Writer
Hello, my name is Jenny McIntyre. This is my second year in journalism and I am returning as a writer. In my free time I like to spend time outdoors, hanging...