Students Review WandaVision
When the WandaVision Marvel series was introduced back in April 2019, it gave long-time binge watchers and Marvel rookies alike something to get excited for. The show, taking place in 2023, three to four weeks after Avengers: Endgame, features Wanda Maximof in a surreal world, created by her grief and incredible powers.
The show takes place in Westview, New Jersey with Wanda and Vision living their ideal, family, suburban life. The main challenge is concealing their powers from their neighbors.
One of the most intriguing parts of the show is how it progresses through decades of film.
"I like how it keeps on changing time, it goes from the '50s and goes up every decade, and the type of show changes, I thought that was pretty cool," sophomore Frank Rhodes said.
The basis of the show revolves around Wanda and Vision finding out what's really going on, both with themselves and with the world around them. They realize that they are living in a surreal bubble nicknamed "The Hex", and that the Hex and Vision himself were accidentally created by Wanda through an incredible wave of energy. Furthermore, there's the agency S.W.O.R.D and its corrupt leader trying to figure out what the Hex is and in turn terminate Vision.
Fans have praised the show for its amazing characters and diversity. Students have already picked their favorite characters.
"Jimmy Woo!" freshman Daniel Goering said with no hesitation.
"Vision, of course," Rhodes said.
"The Scarlet Witch and, of course Wanda, but I also really loved the computer scientist girl, and I loved the twin with super speed," freshman Jasmin Kirkland said.
The "scientist girl" is Darcy, who brought some comic relief with her sarcasm and blunt comments. Other characters include the neighborhood watch and Mrs. Heart. The twins, as Kirkland referred to, are Wanda and Vision's children, although Vision and the twins can only exist within the hex and a part of Wanda's ideal world.
Many students have already picked their favorite scenes from the show.
"My favorite part is when [Wanda] turns into the scarlet witch," Kirkland said.
This comes in the show's finale when Wanda is at her breaking point. Then, in a flash of light and a burst of energy, she appears for the first time truly embodying the Scarlet Witch.
"I liked the second episode, it's the talent show episode and you just get to see more of the role that they're in, in a talent show and it's more of a comedy," Rhodes said.
This was a very different episode, in that there was less fighting and story, and more of just Wanda and Vision's life. It gave a different perspective and let viewers feel like they were a part of the story.
The major critiques of the show came from it being difficult to understand. Students had to have known all the previous events and be familiar with the Marvel Cinematic Universe to know what was happening.
In terms of following and understanding the whole series, a lot of students "thought it was really confusing," Goering said.
"I knew what they wanted me to know," Rhodes said.
Even though the events and story were hard to understand at some points, viewers would usually grasp what was going in the next episode.
Many viewers were left with questions about the unfinished plot line of the white vision. "I want to know what happened to the white vision. He left off and then I just want to know," Rhodes said.
This white vision is a replica made of Vision's old parts. His one mission is to destroy the real Vision, except the Vision in the Hex is not truly real. It is uncertain whether Marvel was intending to leave this plot line unfinished, but viewers want to know what happened.
Lastly, the finale, which has gotten mixed opinions from long-time Marvel fanatics, had students relatively on the same page.
"The finale was very good and very suspenseful," freshman Owen McDonald stated.
The only critique was from Rhodes who didn't love the end credit scene, "I thought it was a good action scene. I don't like the very end scene with Wanda in the room. I like how she was making a projection of herself on the deck, but I didn't like when she heard a noise and looked up and started throwing her hands."
Whichever direction Marvel takes the show in the future, it is sure to put viewers back on the edge of their seat, screaming at their TV's after cliffhangers, and getting excited for fight scenes and big reveals.
About the Contributor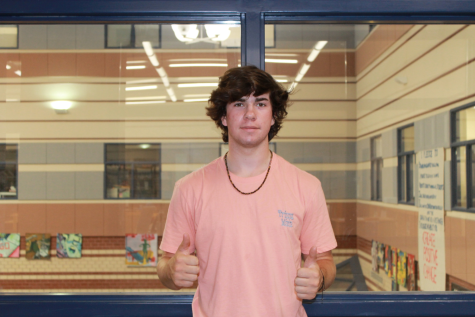 Zach Vernick, Copy Editor & Sports Editor
Hi, I'm Zach, this is my third year in journalism and I am the copy/sports editor. I don't have a doctorate in English or anything, but I did pass...