Seniors Disappointed in BOE Prom Decision
On Thursday March 25th, the Board of Education presented seniors with the final decision that there will be no prom this year.
The superintendent, Dr. Michael Martirano, announced that there will be no prom this year due to venues only being able to accommodate groups at half capacity, and because it would ultimately be unsafe.
"Traditional proms will not be able to be held in a manner that is safe and aligned to current health protocols," Martirano said in the meeting.
For many students, this news was difficult to hear considering the year they've experienced. Many are saddened and slightly frustrated by the announcement; however, they are also aware the Board is looking out for the health and safety of the students.
"I was upset that prom was cancelled but I was not surprised at all. I feel like Howard County has been very strict with Covid. I do think they could have found a way to have a prom or some type of event similar to it that follows all the rules," senior Lauren Fisher said.
Fisher makes a valid point that HCPSS has been very strict with following safety measures. She, along with many other students, weren't surprised when the information was released to the county.
Some seniors expressed anger about the Board's decision, considering many in-person events are still occurring.
"I don't really care that much about prom being cancelled because I know that if the county allowed us to do anything it would be nothing like an actual prom. I don't know if it was the best decision for the Board to make, just because it shows some hypocrisy since sports are allowed, where people don't wear masks and are in super close contact. It doesn't really make sense that we are allowed to have sports, but not an event like prom," senior Shayna Kieley said.
Graduation is an event that holds a much larger group of people compared to prom, yet the Board decided to continue to hold the event since proper social distancing guidelines can be followed. The Superintendent informed the county that, in all future events, including graduation, everyone attending will still be required to follow safety protocols.
"Health protocols will be in place at these events to help ensure safety, including masking and social distancing, not serving food, and limiting access only to seniors at that school. Additionally, a virtual component will be provided to allow seniors not attending in-person to participate," Martirano said.
Many seniors, all of whom having never experienced a "real" prom, were holding out hope for this year's prom.
"I was very, very upset and disappointed and felt that the school board didn't really care about us as seniors and everything we have lost this year. I felt that they were just trying to wipe their hands of any liability, and it is very saddening to me that we will never get to experience a real prom," senior Katie Trenchard said.
Regardless of many not-so-ideal circumstances for their senior year, students have still been making the best of it.
"I was sad at first because we have had no events for the seniors but then I realized that my friends will probably have a fake prom," senior Caroline Anderson said, who is hoping to plan a smaller, private event.
This year has been rough for many people across the world, and losing special annual events hasn't made it any easier. As for now, students should continue to stay safe and keep a sense of optimism for the future.
About the Contributor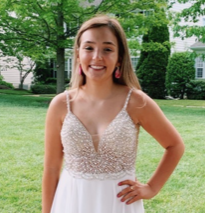 Allie Shafer, Staff Writer
Hello, My name is Allie Shafer. I am in my first year of Journalism, and I work as one of the writers for the articles we produce. In my free time, I enjoy...