MLB Season Begins Second COVID Season
After a shortened 2020 season and entire offseason of waiting, as of Saturday, March 27th, baseball is officially back! Just weeks into the season, players and teams alike have put on breathtaking performances: mammoth home runs, dazzling defense, and pitchers' duels. Simply, baseball is back.
2021 is scheduled to be a complete season, April 1st to October 3rd, with the full 162 games. Even with anticipated potential Covid interruptions, teams will still be playing well over 100 games and baseball fans are ready for some action.
"Baseball is back, and that's the best part," freshman Jasmin Kirkland said.
One of the changes this year is the new and experimental rules. The most prevalent of these is the new extra-innings rules, which went into effect last year.
"In an effort to reduce the length of extra-inning games for the 2020 season, Major League teams now begin each extra inning with a runner on second base," MILB.TV said.
Baseball games have been continuously getting longer, which, in some cases, might make the games boring and lose people's interest. This rule is set to help with that problem. Although it has gotten mixed reactions from the public, students seem to be in agreement.
"It makes the game go quicker, and I think it makes a lot more excitement, especially the extra-inning one… I think it makes it a little more intense," sophomore Frank Rhodes said.
"It will definitely speed up the game, and really help overall," Kirkland said.
One of students' favorite stories from the first few weeks of baseball was the Orioles amazing start, sweeping the Red Sox in their first series.
"The Orioles started off strong!" freshman Quinn Jenkins said.
Although they had a good start, things went south pretty fast, "They got me at 3 and 0, then went 1 and 2 against the Yankees, then got swept by the Red Sox. … so I don't know, just hoping for a winning record," Rhodes said.
And when asked if the Orioles had any chance this year Kirkland said, "No."
The Orioles are a big maybe right now, but they did show their potential and anything is possible. Another interesting story came from White Sox rookie Yermin Mercedes, being the first player in modern MLB to start a season 8 for 8. There were also two no-hitters, one thrown by White Sox's Carlos Rondón, who just barely missed a perfect game, and one by Padres' Joe Musgrove, marking the first in franchise history.
One of the biggest questions going into the season was if players and fans would still hate the Astros for the Postseason cheating scandal of 2017. The answer was a resounding yes, which was immediately demonstrated during their first away series in Oakland, where fans booed them into oblivion. The whole incident was years ago, but when the Astros visited away stadiums, they were pelted with beer cans, boos, and even inflatable trash cans.
"They were very disgraceful, and that's not how the game is supposed to be played," Kirkland said.
Rhodes disagreed though, "What, that's like 2, 3 years ago now, I think that's over with, there's a new manager, and a mostly new team so I think they got rid of that," he said.
Many fans still hold grudges against the Astros but the rest of that story will unfold throughout this year's season.
Spirits and hopes are high entering a new season where almost every team could make a run. Students and baseball fans everywhere are ready. Baseball is back.
About the Contributor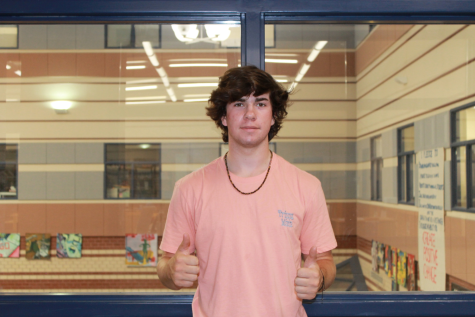 Zach Vernick, Copy Editor & Sports Editor
Hi, I'm Zach, this is my third year in journalism and I am the copy/sports editor. I don't have a doctorate in English or anything, but I did pass...