Mustang Football Wraps Up 2021 Season
Despite the challenges of the spring fall-sports season, the Marriotts Ridge Varsity Football Team rallied together and came out with a 3-2 season, defeated only by Atholton and River Hill.
Starting with a win on Senior Night, the Mustangs left with a 35-0 victory against the Centennial Eagles. They continued to remain undefeated, shutting-out games against Mount Hebron and Oakland Mills, winning 35-0 and 37-0 respectively. They were later defeated by the Atholton Raiders in a 14-0 loss and a 23-0 loss against River Hill but, more importantly, they fought through every win and loss as a team.
Even with Covid restrictions, there was an overwhelming amount of support for these Mustangs. And it wasn't just the fans and parents who were proud of the team, but also Coach Lewis, who said, "considering the circumstances, I think they did a good job, you know, rallying around the Covid and dealing with the Covid issues. Overall I think they did an outstanding job."
These boys did an amazing job navigating through each challenge they were given, and they knew it, too.
"The reason our team has been successful this year is because we all care for one another and work as a team to reach the same goal," senior John Miller said. This group has been playing together for years, and have become a family of their own.
Describing the bond the athletes shared, Coach Lewis said, "I thought the team had an outstanding bond, and if we didn't play well, it wasn't because of the bond they had, it was just because of poor execution." Within the team of 41 players, there are 23 seniors, many having played together for the past four years.
Throughout the shortened season, the team gave it their all and left everything on the field. There were many doubts regarding fall sports across the county, but hard work and determination from coaches and players allowed them to pull off quite a season.
"We thought we may not have a season early on, and coming out and doing the things we did as a unit is something to be proud of," senior Braedan Savoy said.
After the final game of the season against River Hill, it was announced that Coach Lewis, who was also named MRHS Senior Teacher of the Year, will be stepping down as head coach of the team. Since taking over the team in 2013, Coach Lewis turned the team around and collected a 41-36 record over those eight seasons. However, he is not done coaching. Coach Lewis is set to take over the boys basketball team in addition to helping coach the quarterbacks at Calvert Hall. No matter where he ends up, the work he has done for MRHS football will never be forgotten.
More than anything, the Mustangs were just grateful to have the opportunity and ability to play this season. Fans in attendance could see their passion in the way they came together as a team on the field, as well as their camaraderie off of it.
"Just being able to play," said Coach Lewis, "there's not really one highlight that stands out, but just being able to get this group out on the field is the highlight in itself".
This MRHS football team had a special bond and love for this sport, and it was evident in every aspect of their season.
About the Contributor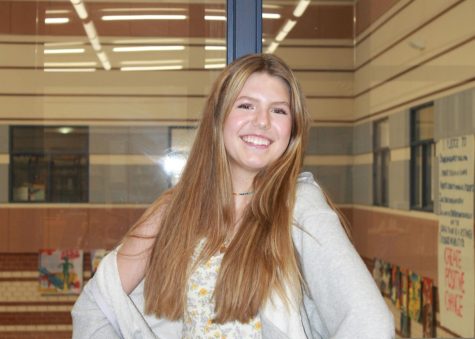 Meghan Larsen, Head of Multimedia
Hey y'all! My name is Meghan, I'm a senior, and this is my fourth year in journalism. I love all things social media and entertainment, so my job on...