MRHS Celebrates Its Wonderful Moms
Mother's Day in the United States was on May 8th, and students at Marriotts Ridge chose to celebrate their mothers in many different ways. Students were looking forward to showing their appreciation for their moms, whether it's cooking a meal or just spending time with each other.
"The first thing my siblings and I usually do is wake up early in the morning. We just cook a traditional breakfast in bed and make sure everything is done nicely for her. We give her a card and sometimes a huge present and surprise her with it when she wakes up," junior Kulsoom Kazmi said.
Others were excited to be able to go out and celebrate with their families.
"Every Mother's Day, we like to go get brunch- it's my mom's favorite type of meal. One year, we went to the Four Seasons, which was really, really nice," senior Dana Aument said.
For many, Mother's Day means something different. Whether it's getting a gift or being helpful, students were expressing their love and gratitude for their mothers in lots of ways.
"To me, it's a day when you should try to help your mother out as much as possible; physically, emotionally, mentally, all of that. It's about truly doing the most to show how much you appreciate your mother," senior George Okoev said.
Like Okoev, there are many who usually spend Mother's Day helping their moms out in any way they can. They often feel that Mother's Day is a day to give back and help mothers in the same way their mothers have helped them.
"To me, Mother's Day means dedicating a day to your mom for everything she's done for you and trying to do the same for her," freshman Mythri Saripalli said.
"Mother's Day is spending time with not just your mom, but your grandma, and the moms you're surrounded by every day. It's also a day where you're there for them and a special time where you are thankful for them and the things they've done to help you grow as an individual and become who you are today," Kazmi said.
Students love and appreciate their mothers for many different reasons, whether it be their kindness or their ability to motivate and make a difference in their lives. Students have many things that they love about their mothers.
"She doesn't yell at me like a lot of other parents. I'm really lucky to grow up in a house with loving parents and a loving mom," freshman Spencer Hess said.
"She pushes me to be the best that I can be, which I hate sometimes because she can get really annoying about it, but I really love her because she sees my full potential when I don't always see it," Aument said.
Freshman Mythri Saripalli's favorite thing about her mother is her caring and selfless attitude.
"When I had surgery, she completely took care of me for 10 days; she did everything for me," Saripalli said.
"My favorite thing about my mother is how embracing towards me she is, even though I can be difficult at times," freshman Uzair Muhammad said.
From cooking meals to giving back, students at Marriotts Ridge were enthusiastic about dedicating a day to their mothers and showing their love.
About the Contributor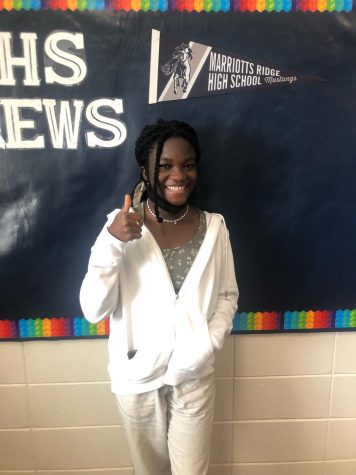 Niyi Odewole, Staff Writer
Hi, my name is Niyi Odewole. I'm a sophomore. This is my first year of journalism and I am a writer. I like listening to music and reading. I also like...