Club Fair Showcases Interests and Opportunities for MRHS
As the 2022-2023 school year begins, many students are looking for clubs to join. Students had the opportunity to learn about various clubs at the Club Fair during lunch periods in the commons area, hosted September 12-16. Various tables and booths were set up, and many club leaders attended the fair. Club presidents came up with creative, colorful ways to present their clubs.
"I would 100% recommend students to attend the fair. Club fairs help students see what they will be doing in each club and find their interests," Co-president of Tennis Club, senior Erin Jeong said.
The Club Fair is a fun, interactive event for students to get familiar with clubs at MRHS and meet people involved in the school community. Club leaders were around to answer any questions students had, and many clubs put up booths advertising their club's ideas and specialty. There are a wide variety of clubs at Marriotts Ridge. Some are related to classes, like language clubs and honor societies, while others provide a more hands-on approach in the community like BARK, which holds events to help out animals in need. Unlike previous years, when the fair was branched out into areas such as the media center and the commons, this year the Club Fair is far more accessible and easy for students to navigate.
"I think the timing of the fair is really great, especially for underclassmen who are new to Marriotts Ridge and don't know about the clubs available. And during lunch, students who spend time in the commons are likely to stop by booths and check out clubs," senior Katie Boyle, president of Sexuality and Gender Alliance, said.
Club meetings and events will often be hosted during Flex time or after school like other extracurriculars. In addition to being fun and a good way to get involved in the school community, extracurriculars are great if you're looking for teacher recommendations, or a little something to spruce up your college essay. Participating in clubs shows initiative, and taking part in clubs could help students meet people who share their interests. In addition, clubs are a great way to recharge from everyday classes and boost morale and productivity.
The Club Fair is an important event because MRHS has so many clubs and students often don't know about them.
"I don't think students know about a lot of clubs, so the club fair is great for people to know about them and think about which ones they might want to join," junior Yasmin Mohammed said.
Every year there is a different selection of clubs to pick from, some have been around for years and others brand new. As club leaders move in and out, the club takes on unique perspectives and ideas that represent the people of Marriotts Ridge. Clubs are more than simple pastimes; they can grow into your next hobby, or even get you thinking about your future. Students are encouraged to participate in clubs they are interested in, but also to they new things and explore their views.
"Not only did it [the fair] help me learn about clubs, it allowed me to talk to the other members and see what the club is like. Who knows, they might find something that they never thought they would be interested in," vice president of BARK, junior Alexandria Dan remarked.
The spirit of Club Fair encourages students to try new things, and get more involved in interests they might already have. If you find there is an interest of yours that does not have a club at MRHS, create your own club! Present it at next year's Club Fair and create a community with the people who share the same values as yours. Good luck, Mustangs.
About the Contributor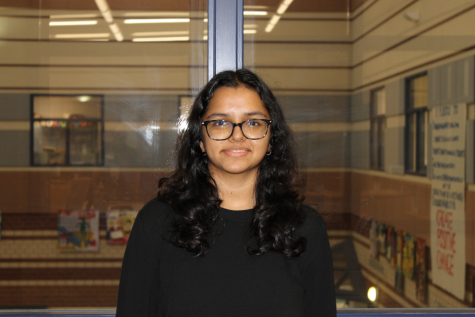 Srileka Krishnakumar, Overflow Editor & Staff Writer
Hi, my name is Srileka, and I'm a junior. I'm in my second year of Journalism, and I'm a writer. I love reading, writing, and I'm involved in a...