Meet Howard County Student Member of the Board: Abisola Ayoola
Abisola Ayoola, a current junior from Wilde Lake High School, was elected last spring to serve as the Howard County Student Member of the Board of Education (SMOB). Chosen by thousands of Howard County students, the Student Member of the Board is tasked with representing over fifty-seven thousand students in the county, through voting on educational policy, excluding budget and personnel matters.
Ayoola's main job is communicating with the student body and voting accordingly. The Wilde Lake junior emphasized that she wants students to speak up about the issues they face.
"It is helpful when students contact me because no matter what the opinion is, it helps me know what students want so I can do my job better," Ayoola said. "Part of the relationship between student members and the student body is being proactive to contact me directly with pressing concerns, and I will do my best to reach the ones that do not."
As well as voting on policy, Ayoola works with other school board members in small group meetings. In these meetings, specialized staff in Howard County's central office present specific issues in the school system, and board members discuss possible solutions. Ayoola highlighted that the Board has benefited from having a student's perspective when making decisions.
Ayoola campaigned on mental health awareness through resources already available to students. She wants the Board to adjust policy concerning the importance of mental health, recently pushing for the Board of Education to add mental health days as excused absences.
"I want to work with Active Minds clubs and other mental health organizations for the high schools that have it and encourage them to do more with the program," Ayoola added.
Ayoola believes that school safety is another significant issue in the county.
"It's more attainable to promote civility which will in turn reduce school violence," Ayoola said. "It's important to me that every student feels safe coming to school."
One of Ayoola's obligations as SMOB is to present at Howard County Association of Student Council (HCASC) meetings. HCASC is an organization where students from across the county discuss policy, leadership, and local government. Ayoola hopes to work closely with HCASC, headed by her former SMOB opponent, Wilde Lake senior, Oliver Song.
"We are looking at how to collaborate both proactively and purposely this year," Ayoola said. "I will continue to give reports at HCASC meetings, but I'm looking forward to working on newsletters together with educational information to reach members of the county, as opposed to just them coming to us when they want to talk about board issues."
With the honor of representing students comes the weight of the job as well. The SMOB spends an estimated 11 hours working at the board meetings, prepping for meetings, and communicating with students. Oftentimes, high school juniors already have hectic lives, so Ayoola carries a heavy responsibility in this role.
"It's about making sacrifices," Ayoola said. "I'm still active about the things I really care about, but I'm recognizing when my time being present in certain places is valuable, and when I can spend it doing other things that need more attention."
Ayoola states that she knows how to handle responsibilities; she served as Wilde Lake SGA Treasurer, a delegate at the SMOB convention for the past four years, and a Girl Scout. These experiences have set her up for success as she understands what people are looking for in a leader.
"Anything in my school where I get to talk to people and get to work towards a common goal, I am a part of and love so much," Ayoola said.
Although her role as SMOB can be daunting, Ayoola is still a high school student. In her downtime, she enjoys sewing, listening to music, and playing The Sims on her XBOX.
"A lot of people like to refer to me as SMOB in my school, and sometimes I'm like 'I just want to learn math like you guys'," Ayoola revealed. "Whether I like that every hour of the day, I have to be mindful that I am in this position and that I am a role model for others."
Abisola Ayoola will continue serving as SMOB for the remainder of the academic year. Her unique role allows her to give representation to students on the issues that affect them most. Ayoola is easy to connect with through social media and email, so students can raise their concerns with her. She hopes to expand on the influence of SMOB and do her best to voice the students who elected her.
About the Contributor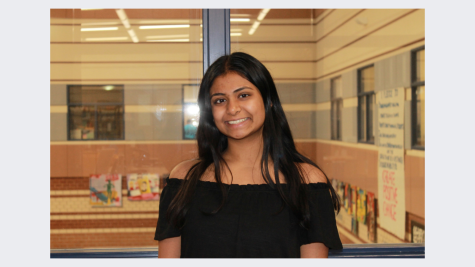 Isabel Mathews, Managing Editor & Head of Multimedia
Hey there! I'm Isabel, and I am a senior. This is my third year in journalism, and I am serving as Managing and Multimedia Editor. I'm involved in Class...