Students Take Their First Steps in the Workplace
Many students at Marriotts Ridge have taken on a wide variety of jobs to earn money and gain professional experience. Mustangs shared their work experiences and discussed how they're able to balance it with school and other time commitments.
Although part-time jobs provide a way for students to learn about responsibility and independence while also earning their own money, working a stable job while one is still in school presents many difficulties.
Sophomore Jessie Cai shared the benefits of her job as a sandwich artist at Subway.
"You get to meet a diverse array of people you won't normally meet in school, and you can use the money to save up for college," Cai said.
She also discussed how she is able to manage school, work, and her time.
"I only schedule shifts when I know I don't have a lot of homework that week," Cai explained.
Being exposed to new people and learning new skills are only a glimpse of the many advantages pursuing a high school job has. Junior Samyutha Shesadhri explained the skills she's learned from being a tutor for children at Kumon.
"It felt nice to be able to teach the kids something," Shesadhri said. "I also was able to learn more about how to deal with children; each one was different, and I had to adjust myself to them. It was helpful because I learnt many people skills and more patience."
Although she's learned many skills, she also shares how she felt it was stressful at times.
"Sometimes I wouldn't understand the kids' questions and we both would end up getting frustrated," Shesadhri said. "I would be mentally tired after dealing with so many kids and people, but I still had a lot of homework and other work to do when I got home."
Determining a strategy is important when balancing working and school. Otherwise, it can be easy for students to feel overwhelmed.
"I definitely had to learn to balance work and school. I always used to know in advance when I had work so I really needed to plan ahead and become really good at time management. Since I knew I worked Mondays and Thursdays, I tended to finish a lot of work at school or over the weekend so I didn't have it ending up like all overloaded," Sheshadri added.
Time management skills and planning your work in advance are especially important and is a common way of how students are balancing their work with school.
Senior Ava Taylor, who works at Glory Days Grill, shared how she also had to cut back on shifts to catch up on schoolwork.
"I was working six days a week, but then I started working three days a week," Taylor said.
Part time jobs teach students important life skills such as ways to manage time.
Sophomore Reem Abdelghani also shares her similar experience with working at Yogi Castle.
"I used to work three times a week so it would come in between social stuff and also I used to take up night shifts so I would have to do homework after. I cut back on shifts if I have a lot of work and also only work on weekends so it doesn't interfere with school," Abdelghani said.
She also added that working a job can teach you many skills including, "Independence, how to deal with money, register, customer service, and management skills including many others."
Working a job teaches a large variety of skills and can even change one as a person with the new skills learned.
"You change a lot. When I started I was so different from how I am now. You also learn so much more about people, especially if you are in the restaurant industry," Taylor said.
Balancing work schedules and focusing on school simultaneously can be challenging at times, but as these students have shared, finding the right balance can be rewarding. Even though it may be hard to manage one's time, students can gain valuable experiences and learn many new life skills from working a part-time job.
About the Contributor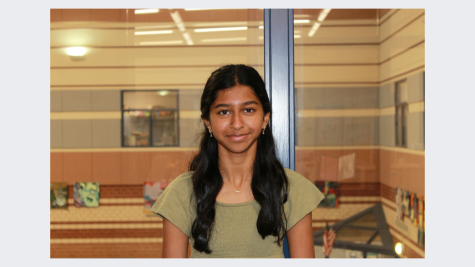 Sahasra Pola, Staff Writer
Hi, I'm Sahasra Pola! I'm a sophomore, and this is my first year of journalism. I am part of the class council at school, and I like to bake, read, and...