2023-2024 SMOB Election
On March 21 2023, the 46th annual Student Member of the Board (SMOB) convention took place at Wilde Lake High School. A total of 138 delegates from all Howard County Middle and High Schools were brought together to vote on a pool of candidates, narrowing the choices down to the final two. Student delegates voted and chose the candidates they thought would be able to best represent the students of Howard County. This convention was the biggest held for the first time in years with a record number of 16 candidates. This year was a close and tough election, the two candidates with the most votes were Lamia Ayaz, a junior at Howard High School, and Antonio Clay-Hardy, a sophomore at Wilde Lake High School.
Throughout the convention, rotating stations were held so the delegates could get to know the candidates and have an idea of each individual's plans for if they were elected. Many delegates paid close attention to the details that differentiated each candidate from one another.
Marriotts Ridge had a total of four delegates attend and represent the school in this vote. All delegates chosen had to apply online by February 15th and were then chosen by their school's administrators and teachers. Most delegates also had previous knowledge about Howard County Association of Student Councils (HCASC), and had attended the general assemblies, quarterly listen and learns, and other HCASC affiliated events. This year, MRHS had many students interested in being a delegate; however, only a few were chosen.
"I've been to a couple of HCASC meetings, and I think it is very cool and important to be involved in the community," sophomore delegate Utkarsh Mandsaurwale said.
Many of the delegates found it important to have a student voice at such a high level of representation as they always notice their peers complaining about county wide policies, but never doing anything about them. Many students across the county have many ideas of changes they want to see, however they aren't sure how to share their thoughts with policy makers or others that can help implement their change.
HCASC strives for student participation and involvement. By hosting monthly general assembly meetings to hear students' concerns and go over different agendas as well as quarterly meetings to revise the quarter. These meetings give a chance for students to get involved and informed about what is occurring in the county. HCASC always ends their meetings with a message for all those who came to go back to school the next day and share any information they learned at the meetings with their peers.
After the delegates finished going through all the stations and learning about each individual candidate, they voted for the final two candidates.
"I think those two candidates are both very capable, and they both promise a lot of much needed things such as focusing on mental health, reducing burn outs on students, promoting diversity and inclusivity," said freshman delegate Sarah Kumar.
Both finalists brought many qualities to the table, making it a difficult decision, however, both Ayaz and Clay-Hardy's qualities proved to be more popular among the students.
"I was really excited when the two finalists were chosen because they both were very well spoken, very smart, and they have a lot of experience so they will obviously bring a lot to the table. They are both really good people and I believe they can both represent the student body really well," sophomore delegate Grace Chen said.
Many students agree that the SMOB position is necessary for everyone to have their voices heard. Without a student voice at that level, the student body wouldn't have decisions made that cover students' opinions and thoughts.
"I think student leadership at that level is very important because once you get to that level it is all adults but these adults are all representing students. We really need a voice that speaks for the students so… they are being heard properly. Students have different mindsets and ideas than adults so it is very important to get someone in that position to convey that role," Kumor said.
Current SMOB Abisola Ayoola has been progressive this past year such as working with the Board of Education to come up with a new start time plan for schools for the next school year and more. She left the next SMOB with valuable advice.
"Stay true to yourself throughout the period; it might be a little bit new to go to new schools and meeting new people and speaking to them. Putting yourself out there but as long as you stay passionate about your platform points and about what you want to see in the county and how you will fulfill the role, you'll do great!" Ayoola said.
Many students are pleased with the end results of the SMOB convention and are looking forward to voting for the next SMOB on May 3rd. Whether it be Ayaz or Clay-Hardy, students trust that they are in good hands.
About the Contributor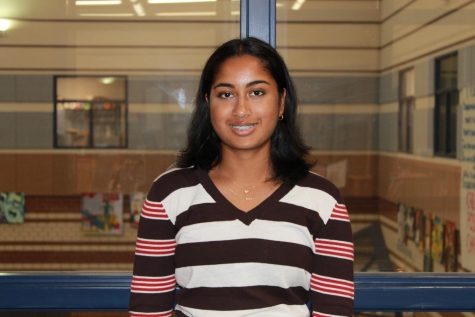 Simran Singh, Staff Writer
Hi! I'm Simran Singh, and I am a sophomore. This is my first year in Journalism, and I'm excited to be a writer for The Stallion. I'm in class council...