The Squirrels Break Bot Barriers
All around the world, high school students gathered to compete in the 2023 FIRST Robotics Competition (FRC) where they battled against fellow teens in an intense field game using industrial-size robots they built themselves. Among these competitors was a team from Marriotts Ridge called the Squirrels, consisting of seniors Joseph Zoller, Kyle Stavrou, Luca Obitz, Adam Pouliot, Connor Brown and Ryan Saylor and sophomore Hunter Benning.
The FRC is run by an international youth organization called For Inspiration and Recognition of Science and Technology, better known as FIRST. The organization aims to
"inspire young people to be science and technology leaders," according to their mission statement. Apart from the FRC, FIRST leads two other prominent robotics initiatives for K-12 students: the FIRST Lego League and the FIRST Tech Challenge.
More than 3,300 teams from 31 countries participated in the 2023 FRC season, competing in a total of 94 District Events, 11 District Championships, 61 Regional Events, and the grand finale, the FIRST Championship which was held in Houston, Texas this year.
At the start of each competition season, a brand new game design is revealed to participating teams at the annual Kickoff event. This year, the game's main objective was to pick up cones and inflatable cubes with their robots and place them on poles and shelves within their grid in order to win points. Following the Kickoff event, teams worked with their mentors during a six-week period to design and build a robot that would bring them to victory.
The design of the robot is integral to how well a team is able to perform in the game arena, and significant time and energy is spent on developing parts for the robot. While teams are sent a Kit of Parts from FIRST at Kickoff that contains standard components for them to start their robots, it is often necessary to utilize external technology in order to build a robot that will be able to withstand the trials of competition. However, this is not always a feasible option for teams, and they must find ways to work with what they have.
"A lot of the teams use CNC [Computer numerical control] parts, which are very clean. We do not have a CNC machine because we don't have that kind of money, so everything's hand-cut. Ours, definitely looking at the field, looks a lot rougher. But the overall design we aimed for was simplicity because we knew we weren't the most advanced team when it came to building—we didn't have a lot of manpower—so we aimed for a simple but effective design," Zoller explained.
Despite their lack of access to certain technology, the Squirrels were still able to incorporate advanced technological parts into their robot's design.
"We have—the nicest part, probably—the swerve drive. Imagine a shopping cart wheel but you can control where it points, and you can power it. So, essentially, you can drive forward and seamlessly turn right or left, or go sideways or backwards or diagonal, or spin. That gives us such freedom of movement; we relied a lot on that to pick up and place stuff," Zoller stated.
Because FRC teams have a limited amount of time to build their robots before the first competition events begin, the building process requires a significant amount of time devotion from the team members.
"We have meetings every Sunday for about three hours at our mentor, Keith's garage. He's the one that sponsors the team for us. Throughout the week, we meet at [Zoller's] barn. By the last few weeks leading up to the competition and between competitions, it's very intense. I'm there almost every night trying to finetune stuff and get them to work, so I drop many hours a week on this," Stavrou said.
FRC events are played in a tournament layout where teams compete in two primary MATCHES.The initial MATCH that teams play is the Qualification MATCH which allows them to garner Ranking Points and determines their eligibility for participation in the second MATCH, the Playoff MATCH. The Playoff MATCH is the MATCH that decides the event champions.
After the initial six-week building period, the Squirrels' first competition event was a District event held in Bethesda, Maryland, where they won Playoffs with relatively little stress. Their second District event, which took place in Timonium, Maryland, posed more of a challenge for the Squirrels.
"The second [competition] was very nerve-racking because it was a disaster—things kept breaking and we had stupid mistakes like when placing it, we unplugged a wire by accident and got a sponge caught in the swerve drive. We blew a breaker doing that, too," Zoller said.
Although the Squirrels lost some vital functions of their robot amidst the chaos of the competition, they changed tactics and were able to pull through.
"We were against a really good team. Because we just shut them down, [the judges] were really impressed with our defense, and that was the reason we got picked for Playoffs and eventually went on to win Timonium," Zoller explained.
While focusing on the Squirrels' win may be easier, their FRC journey is not complete without the acknowledgment of the trials and pressures they faced during the competition.
"These competitions are ten, eleven hours long sometimes and last for like three days. In between matches, you sometimes only have thirty, forty minutes, and if something breaks, you pretty much just have to take it back to your pit and have all hands on deck trying to fix it, which can be incredibly stressful," Stavrou remarked.
Despite the pressure of the competition, the Squirrels agree that winning was worth the challenges. Many of the team members have been participating in the FRC since their freshman year of high school but have not been as successful as this year's competition season.
"We've always been a kind of underdog team. We've never even come close to [winning] before. So, just going from thinking we were just going to go home early and not make Playoffs to being picked and then winning the entire event was crazy," Stavrou said.
As many of the senior members of the Squirrels graduate this year, they leave their legacy to the younger team members and future Squirrels. While the Squirrels may evolve in the years to come, one thing is for certain, they will continue to break barriers with their outstanding bots.
About the Contributor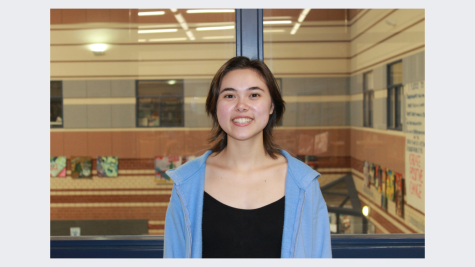 Mars Early, Arts & Opinions Editor
Hey! My name is Mars, and I'm a senior. I'm excited to be the Arts and Opinions editor this year for The Stallion. I am involved in musical theatre...