A Cappella Club's Holiday Releases
The talented singers in the A Capella Club have been working hard to bring the Marriotts Ridge community a holiday performance, even during virtual learning.
Due to online school, students are bound to their desks and computers at home, learning through a screen. Fortunately, many clubs have still found ways to meet, but they still face some challenges with matching the quality of club meetings from past years. MRHS's A Capella Group is one of the newer, on-the-rise clubs.
Allen Yuan, one of the club's presidents said, "A Cappella Club has been doing pretty well, considering the circumstances [of COVID 19]. I think that we were one of the clubs most impacted by COVID, since we're so dependent on in-person meets and rehearsals. We've found it hard to teach music, aid and connect with members, and practice."
Many of the clubs provided at MRHS require physical interaction to function successfully. "Because it's harder to help our members learn and perfect the music, and it's harder to keep people accountable, as there's no way to tell them reminders and announcements in person, we have had some trouble with commitment and deadlines, which we don't blame them for. It's a completely new situation, and I'm sure all of our members are still dealing with the transition into online school and are feeling overwhelmed trying to keep up with our announcements on social media." Yuan said.
Social media, as it becomes more and more essential for virtual communication, is becoming increasingly helpful in aiding communities. A Cappella Club has its own Instagram account, where people can view performance clips, rehearsal clips, and updates/reminders for the club. Students can find the club @mrhsacappella on Instagram.
Hashini Amarasinghe, a junior, said, "Currently, we're working on virtual recordings of different pieces of music using a platform called Soundtrap. We'll be posting some of these recordings soon."
Soundtrap is a cross-platform, digital audio workstation where users can make podcasts and recordings. "Meetings during the pandemic are a bit hard to organize and are slightly less effective because, as a singing group, we can't exactly sing or rehearse in our meetings anymore. We simply give out announcements, reminders, and small notes on recordings that our club members have already done in Soundtrap," Amarasinghe said. "Although it's a different environment than we're used to, we're so grateful to at least have an opportunity to continue making art and music during these tough times."
The club has picked up many theatre actors, as most of them are no longer working on productions. Sophomore Emma Hoerl, who has been in multiple MRHS theatre productions, joined the A Cappella Club this year.
"I'm a theatre person, and I obviously can't do theatre right now, so it's nice to have some sort of outlet to sing and interact with other music lovers," Hoerl said. "We're currently working on some Christmas music, but some pop songs should be released soon."
The A Capella club is separated into three groups: The Aural Amigos (#1), Tonal Eclipse of the Heart (#2), and Tone Down for What (#3). Most recently, the Aural Amigos released a cover of a popular pop hit, "Heather" by Conan Gray. All covers can be found on their instagram page.
For this year's holiday selection, the whole club will perform "Have Yourself a Merry Little Christmas".
MRHS A Cappella will be bringing the students and staff at Marriotts Ridge virtual joy and entertainment this holiday season. Make sure to look for more news and updates on the club's instagram @mrhsacappella.
About the Contributor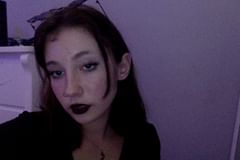 Mattie Newgent, Staff Writer
My name is Mattie Newgent. I am a sophomore at Marriotts Ridge high school and this is my first year on the journalism staff. I am very passionate about...