A Year in Review
The year 2020 was the start of a new decade. Almost everyone had high expectations going into the start of this new year, believing that it would be one to remember. No one could have expected a once-in-a-century global pandemic to put a halt to those big plans and hopes. The pandemic has been crushing, as people have been forced to stay away from their friends and family for months. What may become known as a "lost" year stayed true to its name, losing legendary figures in pop culture such as Kobe Bryant and Chadwick Boseman.
On the afternoon of January 26, sports fans were shocked to receive the tragic news that future Hall of Fame Lakers legend, Kobe Bryant, had died in a helicopter crash alongside his thirteen year old daughter, Gianna. The crash was apparently caused by disorienting weather conditions.
"Kobe was one of the greatest to ever do it. It was really sad to hear that he, along with his daughter, passed away," junior William Nichols said.
The loss of Kobe was not the only tragedy in the beginning of the year. The Australian bushfires, which started in October 2019 and ended in May of this year, were a major tragedy, killing millions of animals and destroying wildlife. Scientists believe that the hotter climate may have contributed to the longevity of the bushfires, which were apparently started by lightning strikes in the eastern and southern coast. By the time the fires had ceased, around 35-40 people had lost their lives.
Another very tragic celebrity death that shook many was the death of actor Chadwick Boseman. Boseman is best known for his role as King T'Challa, otherwise known as the Black Panther, in the popular Marvel Studios franchise Black Panther. Boseman also famously portrayed the role of Jackie Robbinson in the movie 42. His final appearance will be in a movie being released later this month on Netflix, Ma Rainey's Black Bottom. Boseman was 43 years old when he succumbed to colon cancer earlier this year.
The early tragedies couldn't have foreshadowed what almost everyone would consider to be the worst thing that happened this year: the coronavirus pandemic. Originating in Wuhan, China, COVID-19 made its way all over the world, forcing everyone to stay in their homes to quarantine, in an effort to try and stop the spread of this deadly virus. This pandemic led to a massive stock market crash earlier this year, which ended up being the fastest global stock fall in financial history.
"My least favorite thing about this year was the [coronavirus] pandemic, because it stopped us from being able to go to school and see our friends" senior Johnathon Matias said.
The pandemic caused most schools to transition into exclusively virtual learning, through Zoom and Google Meets.
Over 70 million people have contracted the virus, and there have been around 1.6 million deaths, 300,000 of those being Americans (as of 12/14). Thankfully, there have also been around 50 million people who have recovered from the virus.
In the midst of the pandemic, millions of concerned citizens took to the streets to inspire social change. The protests began on May 25 when George Floyd, a 46 year old man, was killed in Minneapolis by a police officer. Floyd's killing, along with so many others, led to hundreds of protests in the U.S. and abroad, demanding reform in the police and judicial systems.
Social injustice was a hot-button topic during the presidential debates, which led up to the election between Democrat challenger Joe Biden and Republican incumbent Donald Trump. Biden beat out President Trump in the Electoral College 306 to 232.
The pandemic has accounted for multiple movie delays, such as: No Time To Die, Black Widow, and The SpongeBob Movie: Sponge on the Run. Various highly-anticipated video games were also delayed, such as: Cyberpunk 2077, Watch Dogs: Legion, and Halo: Infinite.
Despite all of the troubles throughout 2020, there were some positive moments. For example, Africa was declared free of polio, and air pollution had gone down around the whole world because of the pandemic and people having to stay indoors. Also, Korean director Boon Joon Ho's film Parasite made history in the 2020 Oscars. The Korean film won the most awards, but most importantly, it was the first international film to win the Best Picture award in the Oscars.
For most, 2020 will be a year to forget. As the world braces for 2021, hopes remain high for the possibility of returning to a normal world.
About the Contributor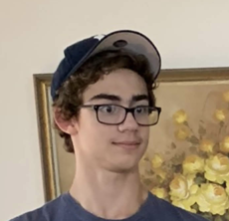 Daniel Cuellar Martinez, Staff Writer
Hello, my name is Daniel Cuellar and this is my first year of journalism. I am a junior, I like movies and video games and I swim competitively.