Political Chaos Ensues in America
Nation left in shock after United States Capitol is ransacked by violent rioters.
Another dark day can be added to American history books after a large group of Trump supporters attacked and invaded the United States Capitol on Wednesday, January 6. The mob of angry, misled rioters was directed by President Trump to march to the Capitol building with intentions of disrupting a joint session of Congress, a session in which the electoral college votes of all fifty states were being counted to certify Joe Biden and Kamala Harris as the winners of the 2020 Presidential Election.
Normally, the certification of electors is simply a "formality [and] final step in the complicated process of electing a new administration" (per The Associated Press). However, after losing 63 of 64 court cases in attempts to undermine the election, President Trump and his allies chose to interrupt this sacred joint session of Congress as their last-ditch effort to cease the certification process.
Moments before the riot, President Trump had been holding his "Save America Rally" at the Ellipse. In his speech, President Trump told the crowd, "We're going to walk down to the Capitol. And we're gonna cheer on our brave senators and congressmen and women. And we're probably not going to be cheering, so much for some of them, because you'll never take back our country with weakness, you have to show strength and you have to be strong."
After hearing an apparent call to action, the hundreds of right-wing domestic terrorists promptly marched down Pennsylvania Avenue to Capitol Hill, broke through multiple lines of police barricades, and stormed the Capitol building from all sides. In a horrific scene, all entrances and exits to the Capitol were swiftly overtaken by rioters who were determined to pressure legislators. Windows were smashed by stolen police riot gear and lingering debris. Doors were ripped open. In a stunning wave of violence, a building which symbolizes the unity of American people and strength of democracy was invaded for the first time since the War of 1812.
A government landmark, which had only ever flown the flags of its country and its states, was seized by rioters carrying flags of hate, including those of the Confederacy and QAnon. Shots rang out into the chamber of the United States House of Representatives. There was an armed standoff at the door. In the other parts of the building, the terrorists ransacked congressional offices and hallways, some even reaching the Senate floor.
All the while, members of Congress bunkered down in various locations, some even trapped in their own offices with make-shift barricades blocking the door. Vice President Mike Pence, who had been presiding officer over the congressional meeting, was rushed to an undisclosed location for his protection.
American citizens and people all over the world watched in stunned disbelief as the precious United States Capitol building was buried under clouds of smoke from flash bangs, while its steps were covered by hundreds of crazed rioters. Multiple homemade explosives were planted, but none were detonated.
DC Mayor Muriel Bowser immediately implemented a curfew for 6 P.M. that evening, while many surrounding-state police departments were called to the scene. Eventually, the DC National Guard was activated. Reports later showed that Governor Larry Hogan attempted to activate the Maryland National Guard but was denied permission by officials at the Department of Defense.
During the chaos, the White House was eerily quiet for multiple hours until President Trump finally released a video on Twitter, urging the mob to go home. In the video, the President also told the terrorists, "We love you, you are very special". After the video's release, Twitter locked President Trump's account for 12 hours, saying that the tweet violated its policies.
One rioter was shot and killed by Capitol Police inside the building. A U.S. Capitol Police officer was killed after suffering a head wound from a fire extinguisher. Three other people died from medical emergencies.
By 8 P.M., the Capitol was cleared by officials, and Congress restored order the only way they knew how: by getting back to work. After being disrupted nearly six hours before, after shots had been fired in their chambers, and after offices of the nation's highest officials had been ravaged, the United States Congress reconvened. Shell-shocked senators returned to the floor, determined to finish "the people's work" of certifying the electors.
Overshadowed by the mayhem, Democrats Reverend Raphael Warnock and Jon Ossoff's Georgia Senate runoff victories were announced, defeating incumbent GOP Senators Loeffler and Purdue. The victories officially gave Democrats sole control of the Senate, finally bringing an end to the 2020 election season.
At 3:31 A.M. on January 7th, nearly fifteen hours after the congressional meeting began, Vice President Pence officially announced the certification of Joe Biden and Kamala Harris as the next President and Vice President of the United States.
Despite an outright domestic terrorist attack on the United States Capitol, Congress had completed its Constitutional duty. Men and women had died, government property had been defaced, and America's legacy was stained forever. In a day of madness and lawlessness, democracy prevailed.
About the Contributor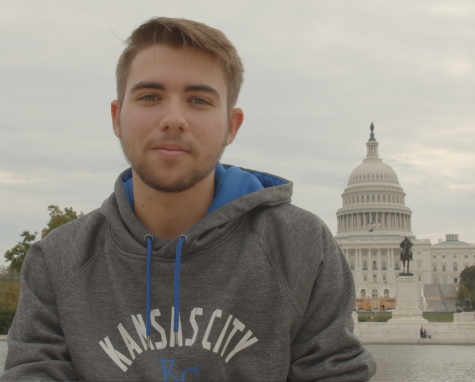 Ryan Williams-Abrams, Editor In Chief
Hello, my name is Ryan Williams-Abrams.  I am in my second year in Journalism, and I work as the Editor In Chief.  I'm passionate about filmmaking, journalism,...