Joe Biden Sworn in as 46th President of the United States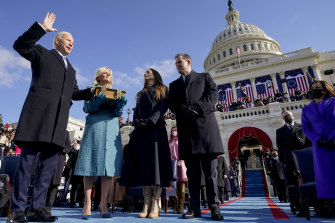 After four years in power, President Trump has completed his four-year term and passed the presidency onto President Joe Biden and Vice President Kamala Harris. The inauguration for Joe Biden was held this morning, a moment of much celebration for many of those who rooted for him throughout his election. The President took the oath of office on the west balcony of the Capitol building, the same location where, just two weeks prior, a crazed mob of domestic terrorists attempted an insurrection. In accordance with tradition, the President was accompanied on stage by members of each branch of government, including congressional leaders and former presidents. The National Mall, usually filled with jubilant Americans, was outfitted with 200,000 flags, representing those who have died due to COVID as well as those who could not attend the ceremony. Former President Donald Trump was not present at the event, making him the first president to skip his successor's inauguration in 152 years.
The ceremony featured Lady Gaga singing the national anthem, as well as performances by Jennifer Lopez and Garth Brooks. Poet Amanda Gorman recited a beautifully written poem describing her hopes and dreams for the future.
The first event of the day was "Our White House: An Inaugural Celebration for Young Americans," and it was the first ever Presidential Inaugural Committee live stream for young Americans. This event was hosted by entertainer and advocate Keke Palmer, and featured special guests including Jill Biden, Doris Kearns Goodwin and Erica Armstrong Dunbar.
After the inaugural ceremony, The President and Vice President then visited Arlington National Cemetery for a wreath laying at the Tomb of the Unknown Soldier. They were joined by former presidents Obama, Bush, and Clinton, as well as former first ladies Michelle Obama, Laura Bush, and Hillary Clinton.
After those events, the President received a presidential escort to the White House with every branch of the United States military represented.
This afternoon, a virtual version of the inauguration parade, a popular favorite by the public, will be broadcasted to many major news networks. The parade will feature dynamic and diverse performances from all 56 states and territories. Actor, director, and producer Tony Goldwyn will host the parade which features performances by 90's rock band New Radicals and comedian Jon Stewart. There will also be appearances by Olympic athletes Nathan Chen, Allyson Felix, and Katie Ledecky, as well as skateboarding sensation Nathan Apodaca.
The ending of this grand event will be a "Celebrating America Primetime Special". The special will be hosted by Tom Hanks and will feature remarks from the newly inaugurated President and Vice President, as well as performances from Jon Bon Jovi, Foo Fighters, John Legend, Demi Lovato, Bruce Springsteen, and Justin Timberlake. The 90-minute event will also include Lin-Manuel Miranda, who will recite a class work, and celebrity appearances by Kerry Washington, Eva Longoria, Kareem Abdul-Jabbar, José Andrés and Dolores Huerta.
By nightfall, President Biden and Vice President Harris will settle into the White House to begin their four-year term. As America searches for healing the wounds of division, all eyes will be on the President.
About the Contributor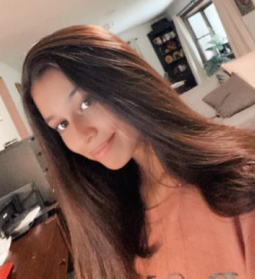 Conie Torres-Milano, Staff Writer
Hello, my name is Conie Torres-Milano. I am in my first year of journalism, and a staff member of the journalism team. I'm passionate about soccer, journalism,...