Scout Reviews "Glass Onion" : Peeling Back the Layers
On December 23rd, 2022 Glass Onion, the second installment in the Knives Out franchise premiered on Netflix to rave reviews. The movie remained at the number one spot on Netflix for over two weeks and quickly gained a dedicated fanbase. Here's what you need to know – from new characters to dreamy settings and everything in between.
Immediately the tone of the movie is different than the last one, showcasing an entirely new cast of characters. As opposed to the warm, cozy atmosphere that had been created in Boston-based Knives Out, the new Glass Onion immediately sets itself apart by taking place on a sunny Greek island. The island creates a light, airy, dream-like atmosphere that is almost the complete opposite of Glass Onion's predecessor.
Despite the drastic shift in tone and atmosphere, Glass Onion maintains the classic whodunit plot that the first movie helped to bring back into the mainstream. With plenty of twists and turns it's clear to see the inspiration director, Rian Johnson took from mystery novelist Agatha Christie, stating in an interview with Slashfilm, "She was throwing crazy narrative spins that have never been done in whodunits before."
The setting isn't the only thing that has changed from the first installment in the series. Glass Onion brings forth a whole new cast of over the top, self-righteous friends who leave the audience struggling to find a redeemable quality. There's Claire Debella (Kathryn Hahn), a governor struggling for reelection, who will do anything to achieve it, mysterious scientist Lionel Toussaint (Leslie Odom Jr.), washed up fashion designer Birdie Jay (Kate Hudson) and her assistant Peg (Jessica Henwick), male-empowerment influencer Duke Cody (Dave Bautista) and his girlfriend Whiskey (Madelyn Cline), and the estranged partner of major company "Alpha," Cassandra Brand (Janelle Monae).
At the center of it all is eccentric billionaire Miles Bron (Edward Norton), who invites this diverse group to a weekend on his private island to play a murder mystery game. While the inspiration was unintentional, it's hard to miss the similarities between Bron and real life billionaire Elon Musk, the character carrying himself with the confidence one would have if they had just purchased Twitter, Johnson stating in an interview with Wired "A friend of mine said, 'Man, this feels like it was written this afternoon.' And that's just sort of a horrible, horrible accident." Of course, things do not go as planned and a real murder occurs during their stay.
The unintentional murder is where the one recurring character in the series comes into play. While he is not the main focus of the story, as said in numerous interviews by Johnson, detective Benoit Blanc (Daniel Craig) is the hallmark of a Knives Out movie with his thick southern drawl and seemingly endless supply of sayings that one usually only hears their grandmother say. Accidentally invited to the island getaway, Blanc is roped into helping to solve the death that happens. Daniel Craig does a brilliant job as Blanc, playing a role that audiences rarely get to see him in and owning it as if he has always been portraying characters of this type.
For me, the brilliance of this movie isn't in the plot, while it is a wonderfully written one, it lies in the small details one wouldn't notice on the first watch-through but still add to the experience as a whole. Throughout the entire movie, if you pay close enough attention, you can catch major plot points happening in the background of scenes. This aspect has remained consistent from the last movie, and it makes for an extremely fun watching experience. Even on the second or third watch viewers can catch something they never saw before that adds a whole new layer to the story as a whole.
Not only are there small details like that in the background, but in the acting itself. Actress Janelle Monae, who portrays Andi, is described by Johnson as having to "play 3D chess" with the script she was given. She does it, and does it wonderfully. Not only does Monae have the subtlety to pull off such a part, but the star studded cast with such names as Kate Hudson and Edward Norton all manage to stand out in their own unique way without upstaging each other. At its core, Glass Onion is an ensemble piece and the cast Johnson put together makes that dynamic work with ease.
Overall, Glass Onion: A Knives Out Mystery is a campy, fun mystery that still manages to have viewers questioning the state of our society by the closing shot. I cannot recommend it enough. If interested, the movie is available exclusively on Netflix for streaming.
About the Contributor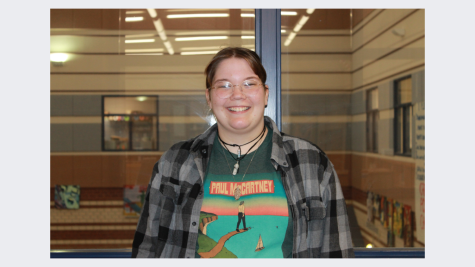 Scout Hoerl, Staff Writer
Hello! My name is Scout, and I'm a senior. This year is my first year writing for The Stallion! Outside of the newspaper, I love all things music, reading,...